Baby Nursery Rhymes Pictures, Wall Art, Posters and Prints
Nursery rhymes pictures, stickers and posters are an excellent choice for a nursery rhyme theme room for your baby as well as popular color schemes. Arrangements featuring our favorite storybook characters add color and personality to the room regardless of the decor or color combination. For example, wall decorations featuring the "cow that jumped over the moon" work well in farm themed nurseries as well as puppy dog or kitty cat nurseries.



Visitors Shopping for Nursery Rhymes Wall Art Also Enjoyed these Pages:

Hey Diddle Diddle Nursery Rhymes Baby Bedding and Decor

FREE Nursery Rhymes Download

Nursery Rhymes Baby Theme Decor



Vintage or Modern Nursery Rhyme Wall Decorating Ideas
If you see where vintage pictures from classic Mother Goose nursery rhymes might create a conflict with your otherwise contemporary furniture and decorations, there are other ways to introduce your child to the wonders of your favorite fairytales that don't have such an old-fashioned look about them like removable, vinyl nursery rhymes decals and stickers in colors that are bright, eye catching and lively. For the room decorated with primary colors wall decals would be more suitable than the color palette of the original illustrations.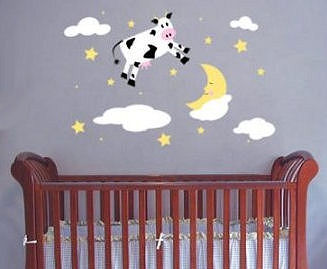 Go Here to See More
MOMENTS TO TREASURE
What could be more enjoyable than rocking the hours away while reading Mother Goose stories with your baby in your arms. You will find that the stickers and wall decorations that complement the nursery rhyme theme baby bedding play a major part in creating the perfect storybook atmosphere. These are the moments that begin a lifetime of memories. Enjoy!
Return to find more nursery rhymes pictures, baby nursery ideas and to find more information on decorating a baby's room based on your favorite Mother Goose Nursery Rhymes and Grimm Fairy Tales like the Hey Diddle Diddle nursery rhyme, Rock a Bye Baby and others.