Nursery Rhymes Baby Theme Filled with Magical Dreams
by Star
(Buffalo, NY USA)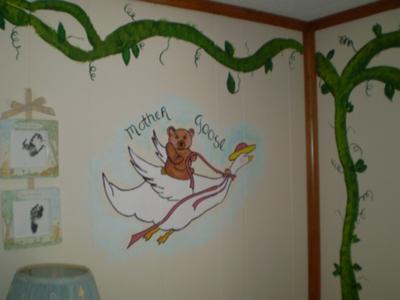 Mother Goose Baby Nursery Rhymes Hand Painted Wall Mural
My husband and I planned, decorated, and painted a nursery rhymes baby theme filled with magical dreams brought to life for our first grandson. My daughter had chosen a nursery rhymes theme for her baby boy's room and we all worked together over the weekend to complete the project despite the soaring July temps.




The storybook characters came alive in the wall murals that feature everyone's favorite Mother Goose characters including a painting of Jack and the Beanstalk climbing up the wall.



Go here to see moree
.
The beanstalk winds its way up and around the room in such a way that it can be used as the baby's growth chart. There are also colorful paintings of Humpty Dumpty still in one piece smiling and happy on top of a rustic stone wall that we painted in great detail, The Old Woman Who Lived In A Shoe with her kids spilling out of every window and door, a sweet little mouse running up the side of the Grandfather clock (if his smiling face is any indication, he doesn't mind a bit!) and finally Mother Goose herself with a cute teddy bear holding the reins as they fly across the nursery wall.
Decorating our grandchild's room that we filled with magical dreams wall murals took all of us working together side by side in, to put it mildly, less than comfortable temperatures. But in the end, it was worth every moment because, as you can see, it is absolutely adorable.
From the webmaster:
Star, during the time that I've maintained
Unique Baby Gear Ideas
I've seen Hey Diddle Diddle themed nursery rooms, Alice in Wonderland themes and others but I've never seen so many Mother Goose Stories as beautifully represented in a single nursery. I really don't know how you managed to paint so many detailed illustrations in the heat that you described. Thanks for sharing the pictures of your Mother Goose wall murals.