Nursery for a Royal Prince or Princess
by AC
The news that Prince William and Kate Middleton are expecting a baby and the world is excited about the arrival of a new prince or princess. No sooner than we began to wonder about what the sex of their baby might be, we segued into concern over Kate's hospitalization. With hopes that the remainder of the pregnancy is worry-free, I began to wonder about what kind of nursery decor the couple will choose.

Prince Theme Nursery Ideas
The color scheme of the room will depend on whether they are blessed with a prince or a princess. If they have a boy would they go with traditional baby blue?
Might they re-purpose some historic relics from other parts of the castle to use in decorating the nursery?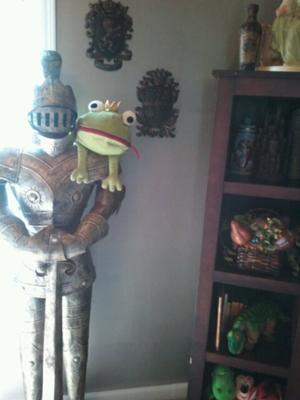 Royal Prince Nursery
Would royals feel that knights in shining armor in the castle nursery would be entirely too dreary or cliché..even with a cute frog perched on its shoulder for fun?
Will the royal crib have its own golden crown? Would a frog prince themed nursery be cute or inappropriate for actual royalty?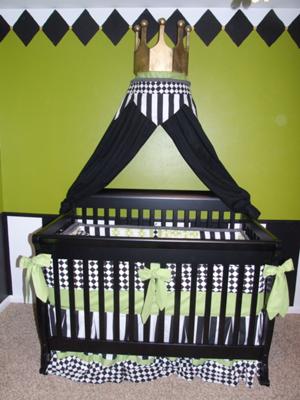 Frog Prince Nursery Theme
If the baby is a girl, will the colors of her room feature the royal purple and have a painted mural of a castle in the clouds?
This brings to mind whether a painted mural of a castle is desirable if the baby's room is located inside an actual castle.
I am sure the little one's crib will be fabulous but probably not a princess carriage crib like the centerpiece in this pink, yellow and green room.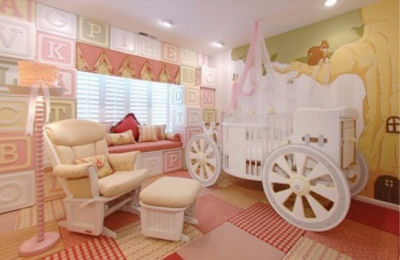 Princess Cribs
The royal color scheme and the gender of the baby will be a mystery for at least a few months leaving us here at Unique Baby Gear Ideas to dream of the endless possibilities and what William and Kate feel is acceptable in a nursery for a royal prince or princess.