Nautical Baby Nursery Ideas
by Kasie
(Lansing, MI. USA)
I basically had no direction to take whatsoever in mind until I found a baby bedding set that included a patchwork crib quilt with sailboat appliques. There was no folder of nautical baby nursery ideas or inspirational pictures of nurseries decorated in this theme that I wanted to copy; The collection was called "Come Sail Away" and the colors in the fabrics set the tone for a white and pale baby blue nursery color scheme with some accents of bright red.


Using this as a guide helped me to create a balanced room design with just the the right amount of cool and warm tones.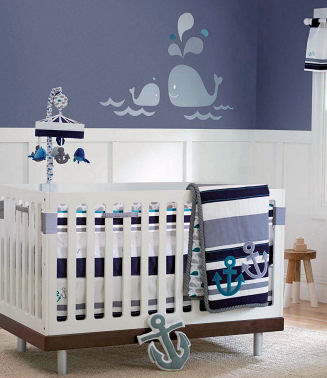 Go here to see more
crib sets and nursery decor with a nautical or sailboat theme.
The next step was choosing a crib and dresser that was sturdy and not too expensive.
The white crib and nursery furniture collection that we found that fit our criteria was a set that I found at WalMart made by Nursery 101.
The
nautical baby bedding
set was my initial decorating inspiration but the cute area rug that I found really ties the baby's nautical nursery theme together and makes the room "pop".
I was amazed at how well it matches both the crib set and the style of the furnishings even though it was not part of the crib set. I knew at once when I saw it on clearance sale at Meijer that I wouldn't find anything as nice anywhere else especially at such a discount price and I bought it immediately.
We were worried that by the time we got around to getting light fixtures for the room that we would have worked ourselves into a corner and have to settle for lighting that was neutral so as not to compromise the color scheme.
The red floor lamp that you see in the corner of our
baby boy's nursery pictures
was purchased at WalMart for a great price.
From the Webmaster:
Thanks so much for sharing your baby boy's adorable nautical room with us, KC.
The shopping resources will really come in handy when other moms to your pictures and want to re-create your nautical nursery theme. The chances of them getting a wonderful deal like you did when you found the perfect (read: cheap) nautical nursery rug that put the finishing touch on your room decor are not that great. But, it is great to hear that with a little luck closeout shopping can produce potentially outstanding results.