Small and Large Baby Mickey Decal and Wall Stickers
A single, large Mickey decal or a set of Mickey and Minnie mouse wall decals are a great way of decorating the walls of a baby Mickey Mouse nursery for a baby boy or girl. Mickey and Minnie as a set would be right at home in a nursery or bedroom for either a boy, girl or both.



Visitors Shopping for Baby Mickey Wall Decals Also Enjoyed these Pages:

Mickey Mouse Nursery

Baby Mickey Mouse Pictures

Mickey Mouse Baby Bedding



Just keep reading to see all the ways that baby Mickey decals and stickers can be used as decorations! Here's a hint of what's coming; you are going to see that a Mickey Mouse themed room is not the only kind of bedroom or nursery where these removable decals will come in very handy.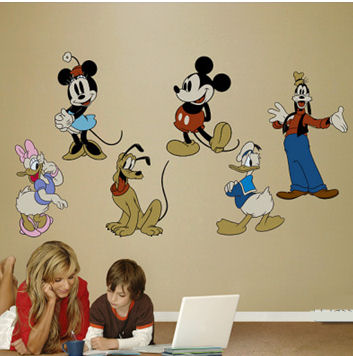 MICKEY MOUSE BASEBALL NURSERY
The latest Mickey Mouse decals feature Mickey as a baseball player. And not just dressed as any old ball player. And what if you're a fan of the Red Sox, Cardinals, Cubs or the Phillies? No problem, large Mickey decals with all of the above uniforms on display are available just right for a
baby Mickey Mouse nursery
.
CLASSIC BABY MICKEY DECAL
Disney fans that are looking for more than just Baby Mickey decals and Minnie Mouse stickers are not to be disappointed; the gang's all here! Cover a large expanse of wall with your favorite Disney characters like Donald Duck and Daisy, Pluto and Goofy in addition to Mickey Mouse and his popular girlfriend, Minnie Mouse.

MODERN MICKEY WALL DECALS
What if all those colors found in Mickey and friends is just too much for the modern nursery decor that you had planned? Creating an arrangement of colorful Walt Disney cartoon characters on the walls of a baby nursery that you are decorating with neutrals may seem like a stretch.


But some smarty pants in charge of developing baby Mickey decals was forward thinking enough to have a few large stickers manufactured seemingly just for that purpose. The large Tres Mickey wall stickers are limited to the shades of gray, gold, brown and traditional black. These pictures of Mickey Mouse are unlike anything we've seen before but with a special charm of their own.
The style of the drawings is not classic Disney. The artist went beyond the usual poses and expressions and depicted this cartoon character almost as a caricature of him. If you never thought it possible for there to be a caricature of a cartoon drawing, take a look at these decals and see for yourself the makeover that has been done on Mickey for this one piece of artwork.
MICKEY and MINNIE MOUSE DECALS
It's not easy to break up a set like Mickey and Minnie even in a baby boy's room and it's certainly acceptable not to since Minnie Mouse's presence alone is not going to make the room too feminine nor will baby Mickey would really come into their own would be in a Disney fan's twin boy and girl nursery.


I can picture a pair of cribs with Mickey and Minnie decorating the walls over the cribs of the boy and girl twins.
THE BOTTOM LINE is that if you grew up with these characters you can enjoy them with your children for many years simply by incorporating these large stickers into your baby nursery decorating ideas.
The Mickey Mouse wall decals and stickers will last throughout the newborn and toddler years and right on into pre-school..and beyond! Is there really any age when we outgrow baby Mickey and Minnie Mouse? I certainly hope not!