Mason and Raya's Aqua Scrabble Theme Nursery for Twins
by jan
Decorating this aqua scrabble theme nursery for twins, Raya and Mason, turned out to be the biggest and most challenging of all the decorating projects in the entire house! But, there is nothing like success in completing a difficult project to really get you going.


We are just getting started and before there is something new to show; let's take a peek at the babies' nursery pictures!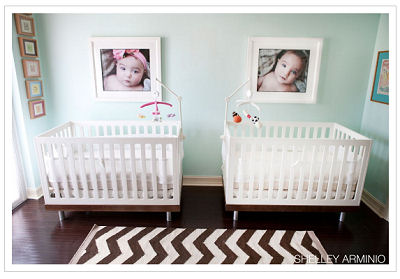 Go here to see more
. The photographer that took the photos of the nursery, Shelley Arminio, took photos of the twins when they were around 4 months old that were enlarged then framed. It's no surprise that this is a favorite feature of the room.
The babies' beds are Oeuf Classic cribs in walnut and the baby bedding is by Dwell Studio.
To fulfill a passion for patterns, a variety of crib sheets were purchased in brown and white to add to the bedding collection.
In fact, the more eclectic and mismatched the patterns are in the room, the better the effect as is evidenced by the chevron throw rug on the dark bamboo floors and the colorful graphic designs decorating the room as well as the adjoining kids' bathroom.
Most of the graphic artwork was printed on a home printer and since I know you're itching to know where the giant scrabble letters that inspired the title "
Scrabble Theme Nursery for Twins
" came from; they were an Etsy purchase as well as the cute whale tissue holder.
Another favorite decorative item is the the PB Teen XOXO pillow (now discontinued). When you visit Papery and Cakery Blog you will notice that there is an "XOXO" theme in place indicating that there are lots of hugs and kisses over there! If you leave a comment that you like our
baby nursery pictures
; there may be hugs and kisses in store for you! Why don't you try it and see?
Since we didn't choose to find out the gender of the twins, a neutral nursery was necessary but no problem since our preferred decorating style is what I call "Triple C" meaning
C
hic,
C
lean and
C
ontemporary. Yeah..I came up with that all by myself!
I'm pretty good with the occasional catchy, phrase like the Triple C thing and I'm really, really good with color. I knew that the warm shades of brown I chose to include in the color scheme would be especially attractive in contrast to the cool, aqua paint color (originally Benjamin Moore AJ-84 matched with a no VOC Sherwin Williams paint) used on the nursery walls. She also gave us a good indication of how very smart she is by knowing VOC is the way to go since we should try to make our kids' rooms as eco-friendly as possible as well as gorgeous. I just love to do smart stuff like that, don't you?
There are many, many more diy crafts to see and admire in this lovely nursery for boy and girl twins so you should buzz over to our blog after you leave
Unique Baby Gear Ideas
to see all of the pictures and leave a few XXX's and OOOO's.