FREE Large Alphabet Letter Wall Stencils for Decorating and Crafts
On this page, you will find a variety of free letter wall stencils that parents can use to personalize their baby's nursery walls as well as the walls of an older kids' room. These large alphabet letter stencils can be used to decorate furniture, clothes or anything else that would be improved with the addition of:
a monogram or initials
a name
a favorite saying or quote
inspirational words like LOVE, HOPE, FAITH and others
Check out our baby nursery pictures gallery to pick up tips on how to decorate your little one's room using free abc stencils with or instead of wooden wall letters to save money. See how creative moms have used lettering in their home's decor and crafts projects or to keep them within budget in their decorating projects, produce products for their cottage industries and create cheap gifts for the family.
Free, printable letter wall stencils are useful for many things beyond adding to the decor in an alphabet nursery theme. When you're done with the alphabet letters for the nursery, use them to create subway art for other areas of the home or scrapbooking.
Now that you have some idea of the many possibilities for free, printable letter wall stencils; let's get started. When you find a letter stencil template that you like, just download the letters that you need to your computer, resize them to suit your project and print! If you need really large letter stencils for a wall monogram, simply save the file and run down to your printer and have them enlarge it to the size you need. After the letters are printed, apply a clear sheet of cut out the openings
Before you cut out the openings of the stencil cover it with Clear Adhesive Peel N' Stick Shelf Liner
to preserve your letter wall stencils so that you can use them over and over again.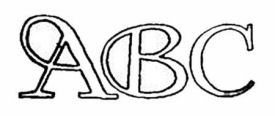 FREE Alphabet Stencils
Basic modern American capitals. Simple ABC stencils with a beautiful style. I have used the letter "A" from this template to stencil a baby's name or monogram on the
nursery wall
more than any other font.
Please make plans to visit Unique Baby Gear Ideas often to see the latest in free alphabet stencils and nursery decor.