Large FREE Printable Leaves Alphabet Stencil Font Pattern with Letters for Walls and Crafts
This free printable leaves alphabet stencil pattern would be lovely anywhere letters with a natural green and "leaf-y" look are needed. Consider using them to paint letters for the nursery wall spelling baby's name or a monogram that will complement a tree wall decal or a forest themed mural.
Frame a child's name, an inspiration word or favorite quote with an arrangement of fall leaves painted using a large leaf stencil in fall colors or stencil all the letters of the alphabet in a green nursery around the room as a border!
Just re-size to your specifications, print, seal with clear adhesive sheets, cut out the centers of letters that you need in the leaves alphabet stencil and get started!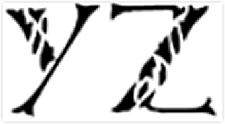 Please make plans to visit us again soon to find more uses for this leaves alphabet stencil pattern and the latest in baby nursery ideas and wall decorations.