How to Prevent Motion Sickness
by Jan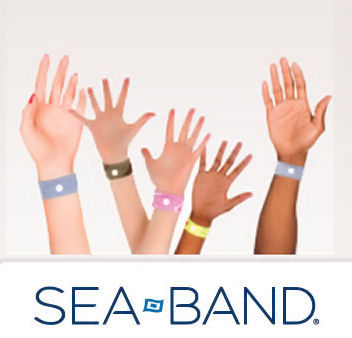 Long before I started research on how to prevent motion sickness my parents tried every prescription and every natural remedy in the book to cure my travel sickness so we could take family vacations. Since I was a kid, I've suffered from severe motion sickness and when I was pregnant, the morning sickness was crippling even when standing or sitting still! The running joke in my family is that our family portrait is next to the word "nausea" in the dictionary.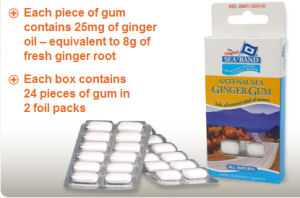 We don't just get sea sick making the idea of taking a cruise vacation a stomach churning nightmare, but car sick and believe it nor not, unable to sit in porch swings or rocking chairs for extended periods of time. I've used prescription medications and patches as well as natural remedies looking for relief, some with better results than others. The pills made me too sleepy to travel safely or to enjoy the scenery when on vacation. The patch actually allowed me to ride on a boat once without barfing but the side effects were a problem in and of themselves. My throat felt like it was lined with sandpaper making it very difficult to swallow. And what's the fun of being on a cruise when you can't eat all that wonderful food? Plus, I was still nauseous. I didn't spend the entire trip with my head in the toilet as I might have otherwise but the patch did not alleviate the nausea.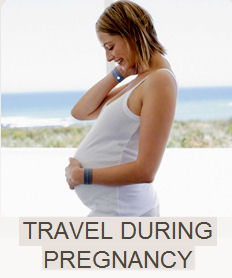 As you can imagine when I heard about Sea-Bands and their ginger gum, I wanted to give them a try. To be fair, since I am a very extreme case, I also allowed a friend who gets motion sick and usually takes Dramamine to control her symptoms to also try the bands and the gum so we could make comparisons. Since she is having a baby, travel medications were something that she wanted to avoid, she has been reading up on
how to prevent motion sickness
from very early on and was more than willing to help me review Sea-Bands and the ginger gum. Both of our reviews follow.
MY SEA-BANDS REVIEW
Since I have such extreme motion sickness, I was not willing to try the Sea-Bands in a high risk situation like riding in the back seat or on a cruise in rough seas. I know my limitations! What I did was put the bands on as per the instructions, popped in a piece of ginger gum and proceeded to rock the baby to sleep in the porch swing. This is a sure-fire trigger for nausea but not so bad that I can't move to a stable seat to get some relief.
After trying so many remedies over the years, I went into the test a skeptic but managed to enjoy rocking the baby back and forth with no sick, queasy feeling! Since the worst was expected, this was no placebo effect. I DID get some relief!
MY PREGNANT FRIEND'S SEA-BANDS REVIEW
We were booked on a cruise before I found out I was pregnant and it would have been a huge disappointment to our older children to have to cancel. Knowing that the patch was the only way that I had been able to avoid sea sickness on other cruises, I was a little worried.
Travel with baby
on board, plus my husband and two older kids would not be fun when I felt like I was about to vomit every minute. I had already looked into natural motion sickness remedies and ginger candy was high on my list of possibilities as well as Sea-Bands. So, being asked to participate in a review was fine with me!
I read the instructions and they said to put the bands on before traveling. Not willing to risk getting sick from day one, I put the bands on before we left home. The first couple of days aboard the ship, I never felt sick so I didn't chew any of the ginger gum. A few days into the cruise, we encountered some rough seas. Nothing severe but the boat rocked enough that I felt slightly nauseated. Starting to worry the rest of the trip was going to be unpleasant; I remembered the gum and started to chew a piece. The taste is not unpleasant but it did take a little getting used to and it took the edge off the nausea and I felt good about giving each of the kids a piece to help with theirs.
I wish that I had tried Sea-Bands and ginger gum earlier because the product not only helps prevent motion sickness; it also gives drug-free relief from morning sickness, chemotherapy nausea and post-operative nausea! I'm a firm believer that natural remedies are always best especially if you're pregnant. With our positive experience, you can bet my medicine cabinet will always have both the gum and Sea-Bands for all of the children, myself and husband from this day forward.
THE BOTTOM LINE
of our Sea-Bands review is that they with the gum did a very good job of providing relief from motion sickness without any nasty side effects like a dry, scratchy throat and mouth or drowsiness. My advice is to give them a test run to see if this natural remedy works for you before depending on it for extended travel since you may or may not be as fortunate as we were. Sea-Bands are not a CURE but they do relieve symptoms.
To see if you respond well to Sea-Bands and the ginger motion sickness gum, you are invited to enter to win your own Sea-Bands and ginger gum in our giveaway and if you don't win do yourself a favor and just buy a set; they aren't that expensive. In fact, compared to prescriptions for motion sickness remedies; they are darn cheap!
The details of the Sea-Bands Review and Giveaway
Sea-band.com wants you to try their drug-free motion sickness prevention gum and wrist bands so they are going to give FIVE (5) lucky winners a set of wristbands and a pack of the anti-nausea ginger gum!
As your
MANDATORY ENTRY
you must tell us what makes you motion sick? Example: Riding in a car, boat or airplane and
LIKE
Unique Baby Nursery Decorating Ideas
and post on my wall leaving your username in your comment/entry or it WILL NOT COUNT.
To score extra entries:
1. Check out our
baby carrier videos
on Youtube to see how the right carrier can make travel with baby easier and either subscribe to our channel or leave a comment on one and return to tell us for
10 bonus entries
2. Follow
msbaby
on Twitter and tweet: Check out the Sea-Bands Review and giveaway hosted by @msbaby – Enter to win here: https://www.unique-baby-gear-ideas.com/free-baby-stuff.html shorten url and leave a comment and you can tweet the Sea-Bands giveaway DAILY and leave a comment.
3. Enter other contests in addition to the Sea-Bands giveaway for a chance to win
FREE Baby Stuff
like free diapers, carriers or gifts for moms! (1 entry for each contest you enter)
4.
5 ENTRIES
– Blog about the Sea-Bands giveaway linking to this page and provide a link to your post. (Post FIVE separate comments for this!)
5.
10 ENTRIES
View our gallery of nurseries entered in our
BABY NURSERY PICTURES CONTEST
and
and vote for your favorite in the comments section
then tell me where I can find your vote for 10 entries and be sure to tell the moms which of their
nursery decorating ideas
is your favorite.
6. Add my website's button to the sidebar of your blog or website (if it's already there, let me know (it won't count if it's on a page where nobody will see it) and post the link to your blog in your comment (2 separate entries) using THIS CODE:
https://www.unique-baby-gear-ideas.com/images/ubgibutton.jpg
7. Link to our
baby blog
(using my URL), with a link back to pick up
(10 bonus entries)
8. Post a link to
Baby Shower Decorations
blog to your own website or blog (using the provided URL), with a link back to me for
(10 more entries)
9. Either start to follow
Unique Baby Shower Ideas
in GFC or let me know if you already do. (5 bonus entries)
The Sea-Bands giveaway will end on August 31, 2011 and is open to residents of the United States only (void where prohibited by law).
The winner of the Sea-Bands natural motion sickness remedies will be contacted via email and will have 48 hours to confirm before a new winner is chosen.
Thanks to
Sea-Bands
for their sponsorship and for the really cute wall decals kits that they sent me to review!
There is No Purchase Necessary to enter to win the wristbands and anti-nausea gum and I received no compensation for my review or opinions.