How to Make a Rustic Homemade Crib for a Baby
by Jan
A dad-to-be recently shared how to make a rustic homemade crib for a baby as well as some amazing pictures of his baby boy's nursery that is decorated in a cowboy baby nursery theme.

So many of you have written in asking for instructions, free baby crib plans and resources for crib parts that I thought our visitors would enjoy hearing from a woodworking dad that had actually built one!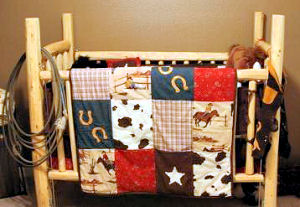 Go here to see more
amazing rustic cribs.
Here is the advice that James has for woodworking parents. If you have any questions; you can send email them to him using the form on the page where he shared pictures of
rustic baby nursery decorating ideas
and his beautifully designed homemade crib.
Did You Follow a Tutorial While Building Your Baby's Crib
I didn't have a homemade crib tutorial or woodworking plans. I just built the bed piece by piece and planning the design as I went. I did not go by any drawings or blueprints. If you are familiar with wood working building a baby bed really isn't that difficult.
Design Recommendations
I would recommend following safety recommendations for dimensions and slat placement as well as making the crib solid without any moving parts. The sides on the one that I built that you see in the photo slide up and down.
I took hardware off an old crib that I bought at a flea market for about $20 (but you can order new parts online) and then cut all my logs based on the measurements taken from that crib.
Beyond the basic saws and tools you will need the
tenon cutter drill bits
to drill the end of the small logs (latillas) so they fit properly. The bits are a little expensive.
If you would like to see more pictures to get you started I can send you some if you will visit the page (see above link) where I uploaded the original photos and send me a message with your contact information in the comments section.
Disclaimer
This crib worked for me but I can't be responsible for the safety of one that you build and I as well as
Unique Baby Gear Ideas
should be held harmless.