Hawaiian Nursery Decorating Ideas
by Jon and Molly
(Madison, WI)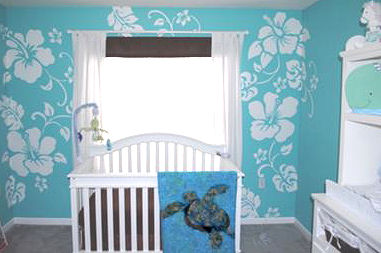 Blue and White Hawaiian Baby Boy Nursery Decor with Sea Turtle Theme Crib Bedding
Our Hawaiian nursery decorating ideas are based on our love of tropical settings and the ocean that we visit at every opportunity. The nursery's decor had to be gender neutral since we didn't find out the gender of our 1 week old baby boy, Owen.



Our home is in Madison, WI which is many, many miles from the sea. But we have a fondness for tropical settings and ocean animals, especially Sea Turtles.



We thought that we would decorate in a style with colors that brought the sea to us rather than visit and enjoy the scenery just a few times a year.
Go Here to See More

THE COLOR SCHEME FOR OUR BABY BOY'S HAWAIIAN NURSERY
We made the decision to work with a turquoise blue and chocolate brown nursery color scheme taken from the
sea turtle baby bedding
brightened with a mix of white furniture.
HAWAIIAN NURSERY WALL PAINTING TECHNIQUE
The floral pattern that we painted on the wall and lampshade was designed to complement rather than reflect the
turtle theme
of the crib quilt which may not be the traditional choice in
Hawaiian baby bedding
but it works for us!
We created the graphics using a graphics design program on our computer called Adobe Illustrator.
I set the workspace to the dimensions of the baby's room taking the windows into consideration. After about 40 hours of design time we were able to move on to the next step.
We printed out the full size floral designs. Printing some of the large flowers took 9 sheets of paper that we then taped together. After they were printed out and taped together we spent many hours cutting out our homemade Hawaiian hibiscus flower wall stencils.
After we finished the patterns, we taped the stencils on the wall and then stenciled using white paint. We used a liner brush to draw the fine lines in the design. We knew that we only wanted one wall painting using the design with a slight overlap of the floral design on the adjacent walls with a little splash of the design in the other corner and by the light switch.
After the wall painting technique was completed we took a similar, scaled down design and used it to paint a 360 degree design on the lampshade. This was very time consuming since we were painting on canvas and there was no room for error. A mistake would cause us to have to buy a new one and start over!
Hawaiian Nursery Art
Artwork featuring ocean creatures and stuffed animals were used to put the finishing touches on the nursery.
SENTIMENTAL ITEMS
One of the most meaningful pieces in the room is the changing table/dresser that his 90 year old Great-Grandpa made especially for Owen!
We hope that
Unique Baby Gear Ideas
' visitors love our Hawaiian themed nursery as much as we do and that you will leave a comment telling us which of our painting and decorating projects that you like the best. Thanks for looking! Jon and Molly (and Owen!)