Handmade Baby Blanket Size Guide for Knit and Crochet Baby Blankets

Our handy handmade baby blanket size guide shows commonly used dimensions for the most popular knit and crochet baby blankets from lovies on up to a toddler size blanket.

One of the most attractive features of this craft would be its flexibility.
A craft er might allow a blanket to finish up slightly smaller than usual when making a piece for her own use should she happen to run short of yarn. After all, what is a half inch in the big scheme of things when sticking precisely to a pattern's instructions might require the purchase of an additional skein of yarn even though only a few additional feet are used?
It is so easy to adapt a
knit baby blanket pattern
or a
free baby crochet pattern
of any kind to whatever size suits our needs. However, it does help to know what standard dimensions are so that we can adjust our gauge and stitch count so that the finished project will fall within close range of of common sizes.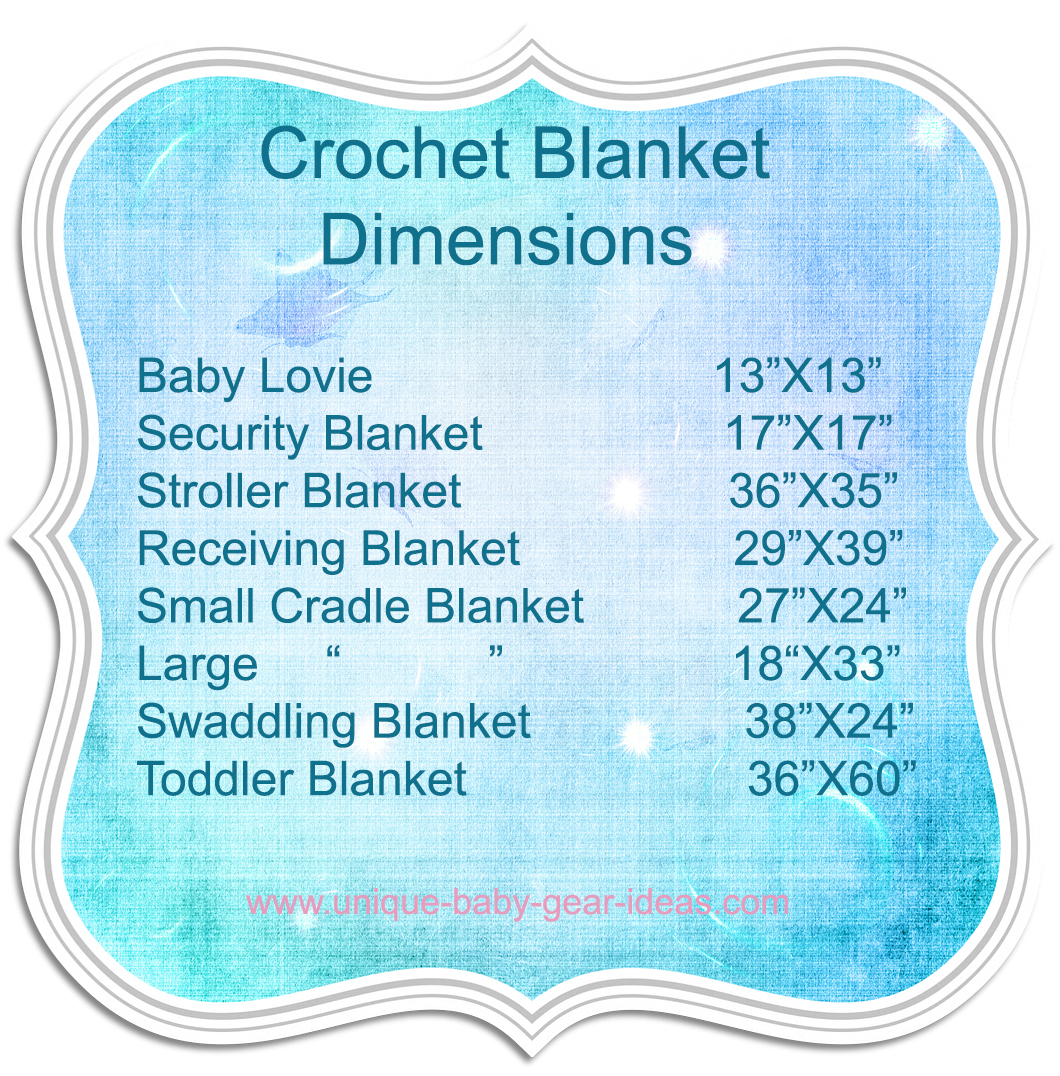 Go here to see more
amazing free knit and crochet baby blanket patterns.
Baby Blanket Size Chart
Lovie                                   13"X13"
Baby Security Blanket           17"X17"
Stroller Blanket                     36"X35"
Receiving Blanket                  29"X39"
Small Cradle Blanket              27"X24
Large Cradle Blanket              28"X33
Swaddling Blanket                  38"X24"
Toddler Blanket                      36"X60

Go here for Knitting and Crochet Instructions
Tips on Increasing or Decreasing
Often, all that is required is the use of a smaller crochet hook or knitting needles when there is a need to increase or decrease a pattern. To be clear, this is not a reference to the "decrease" or "increase" stitch where you would, for example, take the stitch count down from 9 to 8 which would affect the size of a blanket but in a different way.
Simply stitch a test piece to check gauge and proceed with the sizes you need to get the results you want.
Another easy way to accomplish this would be to omit rows when the pattern allows. In situations where the looks of the blanket would be altered or compromised, refer to the first suggestion.
Our baby blanket size chart is not etched in stone. It is only intended to be used as a loose guide indicative only of the most common dimensions shared by visitors of
Unique Baby Gear Ideas
and patterns shared on various crafts sites.