Beautiful Custom Green Gingham Baby Crib Set
by Megan
The beautiful custom green gingham baby crib set is the stand-out feature, the centerpiece, of the nursery. The bedding was made using a combination of green, yellow and white gingham check fabrics. There are lots of ruffles and bows which give it a very feminine look even though the colors are gender neutral.



I didn't choose the green and yellow color scheme because I wanted the room to be unisex.



I chose it to give the space a light and airy atmosphere which it does. No matter what is going on with the weather outside, this room brings a ray of sunshine into our home.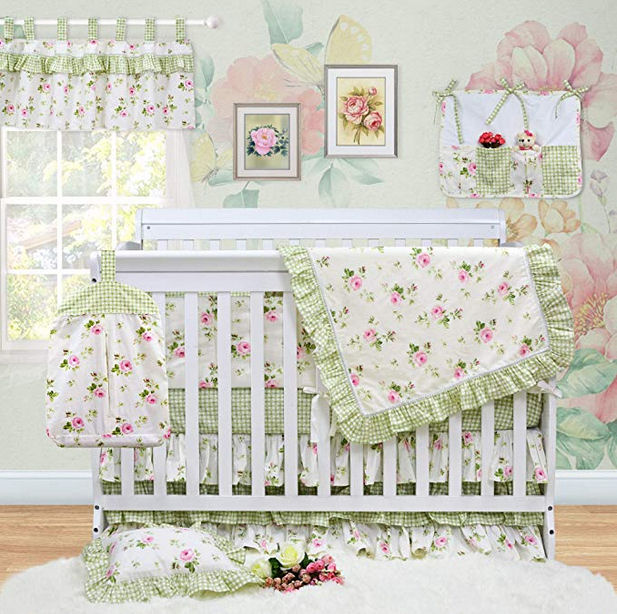 You will be amazed at the decorative items that come with this
green and white gingham checked crib set.
What really makes it even more special and personalized is that the beautiful baby nursery in green that you see in the picture was decorated by my mother.
My mom is responsible for the design of the room and she made all of the custom nursery bedding and decorations herself. From the ruffled crib canopy to the beautifully decorated floating shelf with green, silk vines trailing down the cords that attach it to the ceiling of our baby's yellow nursery; everything is homemade and one of a kind.
The walls of the nursery are painted white with a sunflower yellow and green gingham wallpaper border that looks nice with the checkered pattern of the green gingham baby crib set. As you can see in the picture of the baby's nursery, the ceiling is painted to match the colors in the fabric of the baby bedding set that my mom made.
We also decorated the crown molding that had been painted white with medallions in the corners in green and yellow that tied the room together beautifully.
I feel so fortunate to have such a talented mother who could contribute so much to my baby's nursery design. There's not a baby bedding set in the world that could possibly mean as much or be as lovely to me and I hope that visitors to
Unique Baby Gear Ideas
like it!