Red Gingham Nursery
by Gigi
I was careful not to go crazy with my red gingham nursery decorating ideas. I knew that if I was not very careful, the checks were going to get out of hand; they would completely take over and that was not the look I was after. The reason that I chose red gingham fabric for the crib set is that it always looks fresh and pretty. That said, a little goes a very long way and more is most assuredly not better.


I copied the wall painting technique from a picture of a baby girl nursery that I saw online but it didn't have any instructions on how to do it.


The first thing I did was stamp red squares (they are actually a very rosy pink) directly below the crown molding in a checkerboard pattern using a square stamp using the wall color for the light color checks.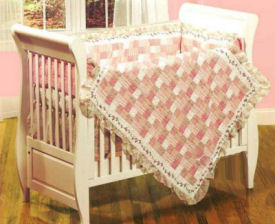 Go here to see more
cute red gingham nursery decorations and outfits for a baby boy or girl.
Then using painter's tape I taped off the width of my border and sponge painted using green paint that matched the green leaves of my baby bedding fabric.
Using a painter's brush I free-handed the bows using the same red paint that I used to make the checks. Then I painted a few sprays of roses behind the baby's bed.
As I mentioned, total red gingham nursery decor was not the look that I was after. My baby bedding set was made from a vintage rose print fabric and I made a crib skirt (that you can't see in the picture) out of red gingham fabric and sewed a strip of the same fabric onto the window valances.
I toyed with the idea of making red gingham window valances, but to do it this way not only used less fabric but I think it looks as good as one of the custom designs that you see in magazines so I wanted to share it here on
Unique Baby Gear Ideas
as an example for other DIY decorators.