Frog Themed Nursery
by Froggy Lady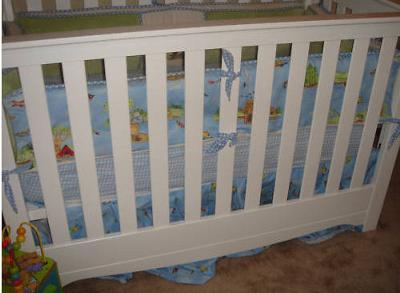 Fly Fishing Kelly Rightsell Frog Themed Nursery
I knew that I wanted a frog themed nursery since I laid eyes on the Kelly Rightsell frog pictures called Hattie Froggy and Henry Froggy. My reasoning was that whether I had a baby boy or girl, I would be able to use one or the other.

GO HERE TO SEE MORE!
And if push came to shove and we were blessed with twins, I could use Twice Blessed as an inspiration for decorating a frog themed nursery!
I am a huge fan of not only Kelly Rightsell frog pictures but her fabric for kids is delightful!
If I had not learned for 100% sure that I would need baby boy nursery ideas, I would surely have been tempted to buy a crib set in her pink toile animal print fabric and then used stuffed frogs and other decorations to create a cute pink and green
frog themed nursery
for a baby girl.
I suppose that I will just have to save those decorating ideas for next time around because as it happened, we did have a baby boy. His daddy is just as much of a fly fishing fanatic as his mommy is crazy about frogs so this
frog baby bedding
set was a dream come true for us. The rug and baby bedding set with the cute fishing frog could not have been more perfect for our needs.
Hopefully, the next frog themed nursery that I design will be for a baby girl and our little froggy family will be complete.