Florida Nursery Theme Ideas Featuring Tropical Fish, Beach Décor and a Beautiful Baby Girl Named Evelyn

Evelyn's Florida nursery theme is so sweet and sunny that it's sure to make any beach loving mom-to-be smile.   Sarah, the lucky baby girl's mom, sent pictures of her nursery just in time for those of you just returning from your vacations in tropical locations that are in the mood to savor the highlights of your trip via the decor in your baby's room. 
The room is bursting with bright colors yet has a timeless, vintage feel via the white Jenny Lind crib and changing table. The map of Florida decorating the wall behind the baby's bed could have been a souvenir from decades past and adds a distinct pop of pink that is "all girl".
There is a lighthearted atmosphere in the room brought about by the use of cheerful colors in the baby bedding and the vintage artwork over the crib.
The crisp white Jenny Lind crib and changing table are a lovely contrast for the pink flamingos that Sarah included as part of the décor.
To the side of the changing area is a cozy reading nook with comfortable seating where Sarah and Evelyn can snuggle while enjoying one of the reading selections in the nursery's library.
Neutral colors are a fitting background for lively prints and patterns of a patchwork quilt in the reading nook and a colorful bunting draped across the window treatments.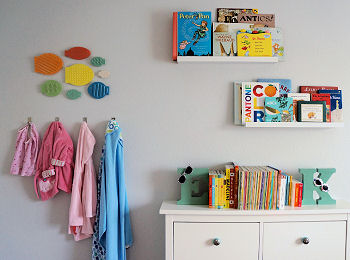 A school of tropical fish wall decorations appear to be leading the way to an equally colorful selection of books arranged on floating wall shelves. The Florida nursery theme is personalized with Evelyn's initials in the form of bookends surrounding yet more reading material.
Sarah designed the space below the tropical fish nursery wall decorations to serve as an easily accessible clothing organizer. Clothes pegs and wall hooks are a great way to expand the storage space of a baby's room beyond the closet.
Evelyn the Star of the Nursery
We will close the tour of this adorable baby girl's nursery tour with a picture of the lovely occupant of the room; the beautiful Baby Evelyn; just look at that sweet face!
Thanks to Sarah for sharing the decorating ideas of Evelyn's Florida nursery theme with visitors to
Unique Baby Gear Ideas
. Her use of color and detail is sure to be a big help to first-time DIY decorators.