ERGO BABY ORGANIC CARRIER REVIEW
by Jan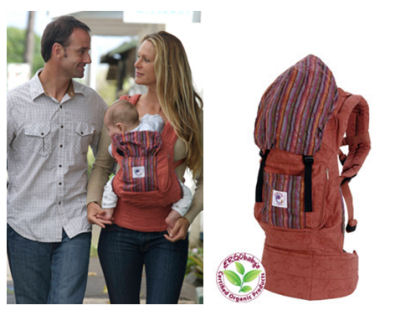 Ergo Baby Organic Twill Sienna Sunset Carrier
I was very excited to be asked to submit an Ergo Baby Organic Carrier review because of the pleasant surprises this product held for me. After opening the box I was initially impressed with how darn cute the Ergo carrier is!



In the review I considered how helpful the products many features would be to a modern parent.



I also considered the different styles that the company products including but not limited to the ones that I have listed below.
Which Ergo Baby Carrier is Best?
In my study I learned that all of this company's products offer the same features that parents want, style, safety and comfort. The primary differences, in my opinion, came down to color preference.
Who wouldn't be enthusiastic about finding a baby carrier that is comfortable without having an "institutional" look about it? I generally am not that carried away after wearing one baby after another using various brands as new moms and dads who are just learning the ropes but I liked the Ergo from the start!
I have to tell you that I knew before I ever loaded baby up for a test run that I loved the looks of the Organic Twill Sienna Sunset Carrier that I was sent for this review. I couldn't help but notice the fun colors and the textures of the fabric and the embroidery on the exterior as well as the colorful striped lining is so cool! And speaking of the liner, the colors are to die for. The colors of the stripes range from denim blue to electric purple with shades of peach and pink in between. I know that appearances don't mean much when looking for a baby carrier that causes back and shoulder pain but I would be remiss if I didn't tell you how stylish this Ergo Organic is.
NOT JUST A PRETTY CARRIER...IT'S COMFORTABLE!
I don't have back problems, but there have been times when I had some pain in my shoulders and lower back after carrying a baby for over a couple of hours. With some carriers my back got tired very quickly but that was not the case with the Ergo Baby Organic; I could tell that my hips were bearing most of the load. The shoulder straps and waist belt were padded nicely to avoid aches in those areas as well.
THE TALL and SHORT OF IT!
My husband and I both tried the carrier to see how versatile it was with people of different heights and body measurements. I am a bit hippy at 5'7" and he's a tall and thin 6f4 (no Jack Sprat jokes, please) and we saw that it adjusted to fit both of us nicely. This may not seem like a big deal to some but when both mom and dad like to carry baby, it eliminates the need to buy two separate carriers. For the record, he was not as bowled over with the colors as I was and said he would have preferred to have either the chocolate brown or the midnight blue carriers since they are manly colors.
NURSE NEWBORNS DISCRETELY
We're beyond relying on the elasticized sleeping hood to hold the baby's head secure (but other moms rave about it) but it came in handy for discreet nursing. When you aren't using the hood it tucks neatly inside a pocket on the front of the carrier. And speaking of pockets, there's a handy little zippered pocket to the side that is big enough to hold some wipes in a ziploc bag and a diaper or two. I socked some diapers inside while I was carrying baby around the house doing some work and liked that I didn't have to return to the nursery for supplies so often.
HOW LONG CAN YOU USE IT?
Not that any of you will be carrying your babies when they reach a weight of 90 pounds, but it's nice to know that the Ergo Baby Organic has been strength tested to be safe up to 90 pounds. When I read this fact, I had to take a second look at the webbing and quick-snap buckles to see if I bought it and while I'm not about to find a child that weighs 90 lbs to test the claim; I will say that all of the belts and buckles seem top notch eliminating the worry that you will have to invest in another carrier as your little one grows.
PRICE
I found the same carrier I was sent for the Ergo Baby Organic Carrier Review on sale on the ERGOBABY website listed for $148 and I saw a new one on Ebay for $99 plus shipping. A similar used Ergo Organic carrier sold for $69 recently. What this means is that if you buy one new and then resell it that you will get a huge percentage of your initial investment back. That is another great reason to buy a baby carrier with high consumer ratings.
THE BOTTOM LINE
This carrier gets a 5 star rating from me on its cool, bohemian appearance. It's a carrier that ladies will feel pretty wearing and that's a good thing.
It gets 4.5 stars for comfort and convenience. I might have gone higher if it were possible for baby to face outwards. This was not a huge drawback for me due to nursing but some babies are not happy with this position.
DO I RECOMMEND THIS CARRIER?
So long as you don't have a problem with baby not facing outwards, I absolutely would recommend buying this carrier! Do not make the mistake of buying a less expensive carrier only to find that you would have been wise to start out with this one and then resell it.
Disclaimer: I, the webmaster of
Unique Baby Gear Ideas
, was provided with a free Ergo baby carrier by the company with no other compensation and as with all my baby gear and carrier reviews; my opinions are my own.