Baby Dr Seuss Nursery Room Theme Ideas
Lots of Baby Seuss Items and Stuff to Make Yourself

You will want some decorative accessories for your baby's Dr Seuss nursery room theme to match your Cat in the Hat crib set, your Truffula trees wall mural or the blue and red Thing 1, Thing 2 design you have pictured in your mind.

Regardless of the characters you choose to showcase; this page will guide you toward some amazing craft ideas, DIY wall painting techniques including stickers with your favorite quotes and sayings and items you can make that will pull the nursery theme together in a fun way.
We have lots of baby Seuss stuff to show you, so come on; let's get started!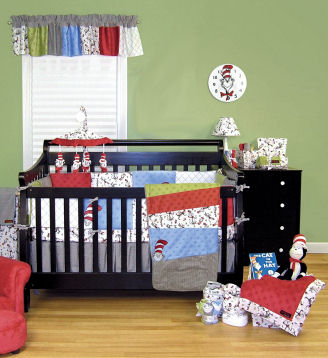 Go here to see more
accessories in bright colors that will look amazing in a baby boy or girl's Dr. Seuss themed nursery.
Dr. Seuss Nursery Wall Painting Ideas
From Horton Hears a Who, Cat in the Hat or the Lorax, Dr. Seuss baby bedroom wall murals are always a winner.
A Complete List of Dr. Seuss Characters for Decorating Kids' Rooms
Go
HERE
to see a complete list of books and Dr. Seuss animal characters that are favorites of adults and kids alike.
Here are some Dr. Seuss murals that talented artists have painted and submitted to share with other parents:
Dr Seuss Baby Nursery Pictures
Lorax Dr Seuss Baby Nursery Wall Mural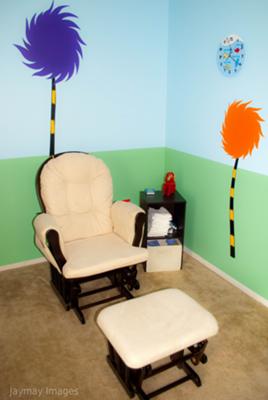 Baby Nursery Pictures
DR. SEUSS NURSERY LAMPS AND ACCESSORIES
If you have a white ceramic lamp that you are currently using in your Dr Seuss nursery you may be able to tie it into the theme without a major outlay of cash. Take a look at the style of the light fixture or lamp and see if you might be able to paint sections of the lampshade or the base of the light with red craft or enamel paint. A few touches of bright red paint will turn a plain lamp into a fabulous Dr. Seuss nursery accessory in just a few minutes.
You might consider making your own Cat in the Hat baby bedding set if what you see in the stores are not what you had in mind.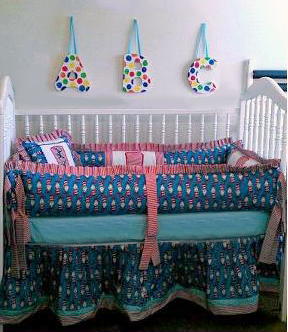 Choose your own fabrics with your favorite characters and color combinations.
Dr Seuss Baby Nursery Themes, Crafts and DIY Decorating Ideas
Alphabet wall letters reflecting the colors of the crib set would be an easy DIY crafts project.
DR. SEUSS THEME CEILING FAN
Here's a creative way to add to your Dr. Seuss nursery accessories that is extremely cheap and easy to do yourself. Take a plain white ceiling fan and remove the blades. Lightly scuff the shiny surface of the fan's blades. Once you have cleaned and prepped your surface so that it will hold paint, you can spray paint each blade in alternate colors of red and white just like Cat in the Hat's stovepipe hat!
Please visit
Unique Baby Gear Ideas
to get ideas for more creative and unique baby Seuss themes and decorative accessories as well as decorating tips for many popular styles in nursery decor.