Cheap and Easy Do It Yourself Nursery Ideas
Do it yourself nursery ideas are a great way to design a baby room for a cheap price. Decorating a nursery can be expensive and when times are tight there is no room in an already overloaded family budget for paying professional decorators and painters. However, I have seen a growing movement of moms and dads who embrace the process surrounding DIY nursery decor with enthusiasm and a whole lot of love.

This DIY savvy mom-to-be made her own giraffe baby growth chart, crib bedding and baby clothes storage system.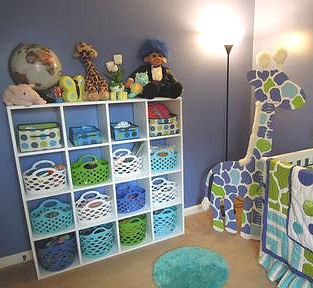 Homemade Periwinkle Blue Giraffe Growth Chart, Baby Bedding and Nursery Storage System
IS DO IT YOURSELF NURSERY DECORATING CHEAP?
The amount of money that can be saved is relative to the amount of work that is necessary to convert the guest bedroom into a room with your preferred baby nursery theme or color scheme. To get a rough idea of how much cheaper it is to do the work yourself, you can take the number of hours that you spend on your project and multiply them by the average hourly wage that a professional would have charged.
DO IT YOURSELF NURSERY PICTURES and DECORATING IDEAS

For example, let's say that you are fairly accomplished in the area of interior wall painting and it will take you eight hours or so to clean and prepare the surfaces, apply painter's tape and paint the nursery walls and ceilings. In our area, professional painters charge between $20 and $30 per hour which translates into a savings of at least $160 to $240 dollars for that job alone. Plus the entire time that you are painting, you can be dreaming of more do it yourself nursery ideas that you can do yourself.
WHERE TO FIND DO IT YOURSELF NURSERY IDEAS
After you see how pretty that fresh coat of paint looks when you are done, chances are that you will be ready and raring to go on another decorating project. But where do you go for the best do it yourself nursery ideas? Of course, I highly recommend thumbing through the list of nursery themes on Unique Baby Gear Ideas for boy nursery themes, girl nursery ideas, as well as many unisex nursery themes.
The next place that I would look would be home improvement stores and upscale baby magazines. There is no rule that says that you should copy the designer nurseries exactly, take your time and take a few do it yourself nursery ideas from more than one of the pictures so that your baby's room is unique, original and a reflection of your personal taste.
HERE ARE SOME RECOMMENDED DIY NURSERY DECORATING PROJECTS for BEGINNERS

EASY DO IT YOURSELF NURSERY WALL MURALS
A painted wall mural can be very expensive. You can achieve similar results by covering the walls with a wallpaper mural and then embellishing it with decorations that personalize and give it a 3D (three dimensional) look. Themed wall decals and stickers are another easy and inexpensive method of creating cheap DIY nursery murals that even a child can manage.
DECORATIONS and DECOR
Decorating the nursery walls yourself is not the only area where you can save on nursery design. Depending on a mother or father's particular skill sets, there are plenty of do it yourself nursery ideas that are perfect for woodworking or those involved in arts, crafts and sewing. And don't forget to let the rest of the family members in on the fun.
Ask a grandfather who is a retired carpenter to use his carpentry skills to make a crib or cradle. Offer to provide a set of free DIY crib plans, crib hardware, wood and supplies and to work alongside him on the project so that neither tired hands or a stretched budget are pushed beyond their limits.
See if a friend who belongs to a quilting group would make a special, wall hanging or crib quilt to display in the nursery. Offer to provide quilting thread and fat quarters of quilting fabric so that you can be confident of a color match to the rest of your DIY nursery decorations and decor.
These are just a few examples of do it yourself nursery ideas that will allow your own unique sense of style and interior design shine in the very best light. Plus, everyone who takes part in the process or contributes homemade nursery decorations that they made will feel a special and lasting bond with the precious baby that will occupy the room.