Best New Diaper Bags for Boys
At the moment I'm so envious of moms who get to carry the cute diaper bags for boys that I see all over the place I am just beside myself. I can remember when I felt so very lucky to have girls because the stuff that was available for them was so trendy and fun.
I would never wish to replace one of my daughters with a son but darned if some of the baby bags for boys aren't more stylish than the ones coming on the market for baby girls. And I'm not writing this on a day when I've been up to my ears in ribbons, lace and bows while decorating a nursery for one of my clients when anything tailored is a refreshing change of pace.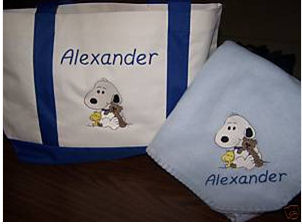 PERSONALIZED DIAPER BAGS for BOYS

If monogramming your baby's name on his diaper bag is not enough, perhaps you would like a personalized diaper bag for boys to match your baby boy's nursery theme, his baby bedding or that will reflect dad's occupation or favorite hobby?
John Deere tractor diaper bags are popular with everybody right now but this holds especially true for babies in farming families. A fire truck diaper bag if daddy happens to be a fireman is a huge hit as a baby gift.
MONOGRAMMED BABY BAGS for BOYS
I can remember a time when monogrammed diaper bags for boys were not that popular. Dads might have objected to the font or the colors that were used in the monograms or some other silly reason pertaining to what was considered fashionable or masculine but those rules no longer apply. You see baby boys' names and initials on cute baby bags everywhere you see moms and babies. Engraved cufflinks and monogrammed shirt pockets are a few years down the road but you can enjoy monogrammed baby bags right now!
And those are just a few of the cute diaper bags for boys that have me momentarily in envy of you moms that had sons. I'll get over it, but meanwhile I'm going to enjoy shopping for some to give as gifts to my friends!
Return to Unique Baby Boy Nursery Themes and Decorating Ideas to find more cute stuff for both baby boys and girls.