Best Curious George Nursery Theme Bedding and Baby Room Decorating Ideas
You will have a blast decorating your Curious George nursery with stuffed monkeys and official licensed Curious George merchandise, pictures and decorative nursery items that match your baby bedding set. Scatter Curious George figurines and collectibles around the room so that everywhere you look there's something decorative in the same colors as the Curious George baby bedding you picked up at such a cheap price.



Visitors Shopping for Curious George Baby Bedding and Decor Also Enjoyed these Pages:


Curious George Baby Bedding

Curious George Wallpaper

Curious George Fabric

Curious George Coloring Pages




A Curious George nursery theme is full of fun and bright primary colors. It seems that our buddy, George, the mischievous monkey is always up to something that involves lots of bright colors. He's either out flying a kite, balancing on a beach ball or playing cowboy wearing a cowboy hat and a bright, shiny silver star shaped badge.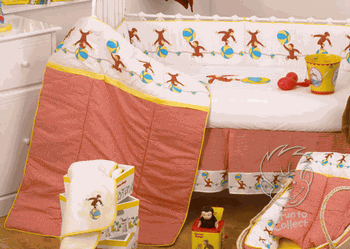 I can imagine that we will have such fun developing decorating ideas for this colorful nursery. How could we fail to do something clever when we have so many cute characters to work with?

For example, I see possibilities for some popular kids' theme combinations:
Curious George room with a spring kite flying theme
Curious George Wild West Cowboy theme
A Curious George nursery theme with a tropical jungle background
The beach ball prints would be perfect for a combination monkey and beach theme
It would seem that with a Curious George nursery theme that you have hit the jackpot. It's rare that a decorator is so lucky when it comes to availability of merchandise and items that can be used a particular style of home decor.
SHARE IDEAS - PICTURES of CURIOUS GEORGE NURSERY DECOR
Do you have a great set of baby bedding or a picture of a nursery that you decorated? Share it!
NURSERY PICTURES, IDEAS and SUGGESTIONS from our FRIENDS
Click below to see contributions from other visitors to this page...


Curious George Theme Baby Picture

This adorable Curious George theme baby picture was from a shoot designed by Lauren Glase of Lauren Glase Photography whom Unique Baby Gear Ideas featured …

Curious George The Astronaut Nursery Theme

We needed to find just the right focal point for our Curious George the Astronaut nursery theme the baby's room since we knew for sure that is the one …

Curious George Baby Nursery Wall Murals Not rated yet
Here are a couple of pictures featuring the Curious George Baby nursery wall murals that I designed as decorations for my baby boy's room. My son is …
Because of this abundance, perhaps we should begin by using licensed Curious George items and merchandise for the basics. Once we have the necessities in place we can then start to bring in complimentary items like kites, big, colorful beach balls and other decorative pieces that would mimic the storyline in the Curious George story books. I can imagine a display of kites that can be used to decorate the ceiling or beach balls hung in fishing nets.
If your budget starts to run thin or you have some unforeseen difficulties finding matching colors, you could make your own nursery rocker cushions, window treatments and even a table topper with some cheap, solid color cotton fabrics and use Curious George fabrics for special accents.




HOW TO USE YOUR CURIOUS GEORGE ITEMS ELSEWHERE IN THE HOME
Don't stop with decorative bedroom accessories! Pick up a waste basket, shower curtain and toothbrush holders for the bathroom vanity so that your kid's adjoining bath will coordinate with his bedroom. Hang some cute posters and prints on the walls featuring our furry friend as the main subject and your work will be done.
Return to Unique Baby Gear Ideas to find more Curious George nursery decorating tips and to see pictures of rooms decorated in this theme.