Curious George Baby Nursery Wall Murals
by Dennis
(Melbourne Florida)
Here are a couple of pictures featuring the Curious George Baby nursery wall murals that I designed as decorations for my baby boy's room.

My son is due to be born in December and I wanted to have the room furnished, decorated and ready when he arrives. Now that everything is finished and in place, I can spend more time enjoying him.


This portion of the nursery wall mural features a precocious little monkey reading a book. This will be one of the first things my boy will see when he wakes every morning.
My hopes are that the art will send the message that reading can be lots of fun!
This is very important since we chose the
Curious George nursery theme
not only to pay tribute to my favorite storybook character of all when I was a kid but because I want to share my childhood memories with my little boy.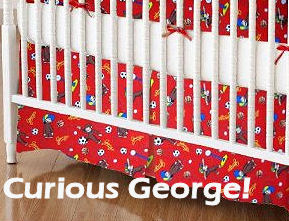 Curious George Baby Bedding
The wall paint color was chosen to match the print of the fabric in the nursery's crib bedding set and window valance. The bright yellow is a great contrast and makes a great background for the artwork.
Please make plans to visit
Unique Baby Gear Ideas
again soon to see more cute
Curious George baby nursery wall murals
designed by creative parents.