Free Christmas Crochet Elf Baby Hat Patterns
Pattern for a Ribbed Crochet Baby Hat with a Long Tail and Pom Pom worthy of Santa Claus 

The free crochet elf baby hat patterns that you will find below inspired me to make my own version of what I call my "Santa Claus Peppermint Swirl Christmas crochet baby hat" that is ribbed with a long tail and a LARGE pom pom made of red and white sparkling, glitter yarn.    I had a partial skein of white sparkly yarn left over from making a Santa Claus baby hat and beard last year and it was just enough to take care of the white stripes on this hat even with the long tail. 
I crocheted the red and white striped hat first and I'm glad that I did because it is so adorable that I made several for friends' to use at their baby's first Christmas photo shoot.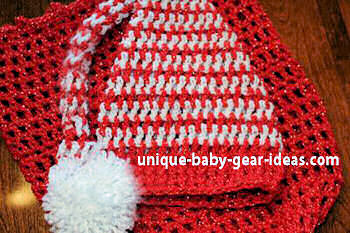 I started to embroider snowflakes on the red cocoon using white yarn with silver sparkles but decided against it because as it is; it can easily be used as a Valentine's Day baby photo prop as well as for a holiday shoot especially if you make a pair of
Christmas Baby Elf Booties
with jingle bells on the toes in red to match!
Measurements of the Crochet Elf Baby Hat
The finished hat measures approximately 37 inches from the end of the long tail to the bottom of the ribbing and about 12 inches around. It fit the infant that I made it for perfectly but there are instructions for englarging it if you want to make it for an older baby.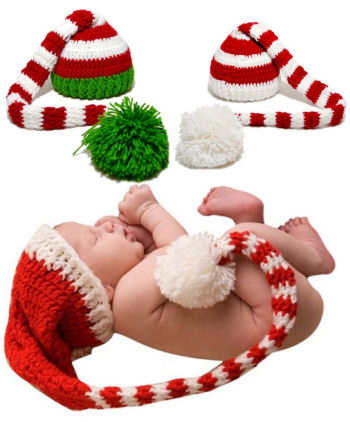 Go here to see all of the styles
and colors of yarn that you might use for the crochet baby elf patterns.
How Much Yarn, What Kind and What Size Crochet Hook I Used for the Crochet Elf Baby Hat
I used one (1) skein of the sparkly red yarn and not quite one (1) skein of the white for the hat. I bought extra skeins of the red yarn because I wanted to make the matching baby cocoon.
Necessary Crocheting Skills Required for the Long Tail Baby Elf Hat
The crochet elf baby hat is crocheted in the round which makes it very easy for a beginner.
Crochet Stitches Used to Make the Santa Baby Elf Hat with a Long Tail and Pom Pom
There are just two simple stitches used in this project, the chain stitch (ch) and double crochet (dc) but you will need to become acquainted with the front post double crochet (FPDC) and the back post double crochet (BPDC) technique for the ribbing. Some people find this technique a little difficult but take it from me that it is totally worth it as it looks so much like the traditional ribbing that you used to have to learn how to knit to achieve.
Here is
a great video that will walk you through the basics of both front post and back post crochet.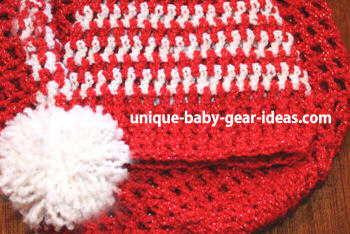 The
crochet baby bunting
completes the set and can be used for a Valentines Day photo prop without the hat.
I used not one but two free crochet baby hat patterns and here is why. I started out using a free pattern that all of a sudden disappeared from the blog and became available only for a fee on Ravelry or Craftsy. It only costs a little over a dollar ($1) which is a very cheap and fair price but if you are determined to only use free baby crochet patterns due to budget concerns or on principle,
here
is a freebie that is very similar if not exactly the same as the one I started out with.
The hat in the photo of the freebie is not as attractive but I found that to be due to the lack of yarn used in the pom pom than to a difference in the actual style.
This
is the free baby hat crochet pattern that I used for the first few that I made but it is now only available as a download.
Thanks for visiting
Unique Baby Gear Ideas
and I hope that whether you use the baby elf hat as a photo prop or to wear to the family Christmas party for fun that it turns out great!