Colorful Baby Nursery
by Gina
(Dupo, IL 62239)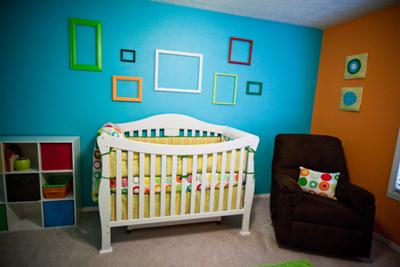 Colorful Geometric Baby Nursery Wall Decor in Aqua Blue, Lime Green and Orange!
A bright, modern and colorful baby nursery design with no "baby girl pink" or "baby boy blue" was the obvious choice for us since we wanted the gender of our baby to be a surprise.


We decided to go with very bright, bold colors that complemented each other and created a gender-friendly atmosphere.



Go Here to See More
My husband and I are both creative people and we wanted our baby's room to be fun and unique. But we had a very tight budget that were had to work with so we had to use items that we already had whenever possible.
After we decided what we needed, we refinished every single piece of the colorful baby nursery furniture ourselves.
First of all, we sanded the baby's dresser until it was perfectly smooth. After all rough spots and imperfections were eliminated, we painted the vintage dresser all white. The colorful part that you are not able to see in the pictures is that we painted the inside of the drawers different colors. Not only did we give the dresser a complete makeover, but we designed the knobs to match the baby bedding that we chose.
From the webmaster:
Your colorful baby nursery is so bright and cheerful! And I can see evidence of mom and dad's creative personalities all over the room! You have done an amazing job of making those bright colors work for you.
Could you please tell us the brand and names of the paint colors that you used on the nursery walls? For lack of a better description, I called the accent wall color orange but I can imagine that it's more of a dark cantaloupe color. Can you please help me describe it better as it might save moms who stop by and admire your colorful nursery pictures a few steps if they want to duplicate your
Unique Baby Gear Ideas
.