Choosing Pink Zebra Print Baby Bedding for a Girl's Nursery
by JB
I'm having trouble choosing pink zebra print baby bedding for a girl's nursery room that I'm working on today. Why? Because there are so many that are simply adorable! Am I unhappy about it? NO!

Isn't it amazing that only a few short seasons ago that (after looking and looking) that I could only find one collection of pink and zebra baby bedding set?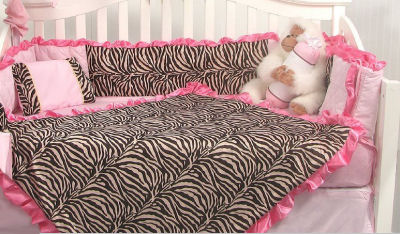 SEE MORE HERE
Even then, the mom had to acquire a taste for hot pink when she truly had her heart set on a nursery decorated in soft pastels in direct contrast with the monochromatic black and white stripes. If she hadn't been due to give birth in a few weeks we could have ordered a custom crib set but bright pink was the best we could do on such short notice.
Once the zebra nursery bedding set was in hand so that the colors could be matched; decorations and paint colors were next.
Using my photo editing program, I created a printable zebra quote by Dr Seuss and framed it in an elegant picture frame.
Next, the decision had to be made as to whether another "pop" of zebra print would be introduced via a rug or an ottoman or pouf.
A round, pink area rug is the perfect choice for this room.
The suggestion was made to one of our friends that a cute crib quilt with appliques of a monkey riding on a zebra would be the perfect baby shower gift.
Please make plans to vist
Unique Baby Gear Ideas
again soon to see more
pink zebra print baby bedding
for a
baby girl nursery
room.