Camo Baby Bedding and Nursery Theme Ideas
On this page we have some recommendations for Realtree, Mossy Oak and pink camo baby bedding as well as some ideas for nursery themes where this type of crib bedding is an excellent fit. These themes are based on hunting, military service or simply the desire to decorate the baby's nursery in a unique way.


Another reason for decorating a camo baby nursery is that dads who may be uncomfortable surrounded with traditional baby items may feel more welcome and at home. As you will see in our gallery of baby boy nursery pictures, camouflage is just one of the many stylish, masculine possibilities but for the hunter or soldier; it's really hard to beat.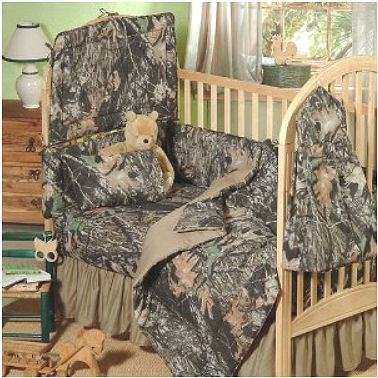 Go Here to See More
Popular choices in green and brown
camouflage baby bedding
for boys are Mossy Oak and Realtree. Both are nice choices for Army or military themes as well as a
hunting themed nursery
.
Baby girls can also have a set of pretty pink Mossy Oak baby bedding.
Pink Mossy Oak fabric features perfect color combinations for a pink and brown as well as a pink and green nursery.
Parents with a preference for a baby blue nursery will be pleased to learn that their wishes have been fulfilled.
Blue camo is often the
baby bedding
of choice when decorating
airplane baby nursery
themes.
Sky blue and green make a light and airy color combination for an Air Force themed nursery or a nursery with no theme at all!
Please make plans to visit us again soon to see this year's new camo baby bedding sets and nursery decorating ideas.