Burlap and Baskets Make This Baby Boy Nursery Masculine
by Jan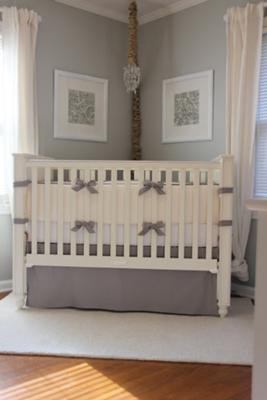 A creamy ivory and light gray crib bedding set in a masculine, baby boy nursery with touches of burlap and woven storage baskets.
A blend of textures introduced via a bit of burlap and woven baskets make this baby boy nursery masculine. Items like the chandelier that hung over mom and dad at their wedding bring elegance and more than a touch of sentiment into the room's decor.


The ceiling light fixture once had a white silk chandelier cord cover that was deemed too girly, so Mom and Grandmom replaced it with one they sewed from burlap fabric making it more "manly".



The space has many sentimental features that involve special memories that will be shared with the little fellow that will enjoy his first years here.
Go here to see
burlap fabrics to use in your nursery decorating project

Two talented ladies put their heads together and came up with several craft and sewing projects that put their own unique signature on the project
I brought this DIY portion of the process up early on so that those of you looking for tips on decorating the nursery for a little fellow will pay close attention to these
baby boy nursery pictures
to see how tiny details make all the difference.
Heather and Christian also checked the safety of the items they wanted to include in the baby's room very carefully. For example, she skipped the plans she had for decorating the walls with picture frames made from antique boards salvaged from a century old barn after they tested positive for lead paint. That was a big disappointment but they simply were not safe for Baby J's room.
Instead she framed a favorite Bible verse:
The LORD your God is with you, He is mighty to save. He will take great delight in you, He will quiet you with his love..."
Zephaniah 3:17
with brown IKEA frames painted white in a shabby chic style reflecting her fondness for chipped paint (that is safe and lead free).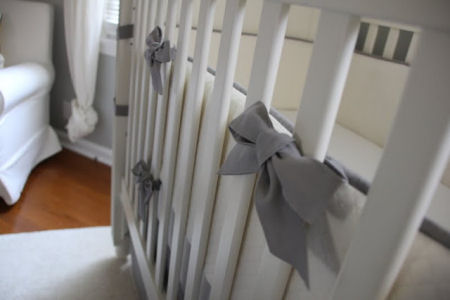 The baby bedding set was made from light gray duck cloth and cream color, quilted decorator's fabric by the same talented grandmother that helped to sew the burlap cord cover.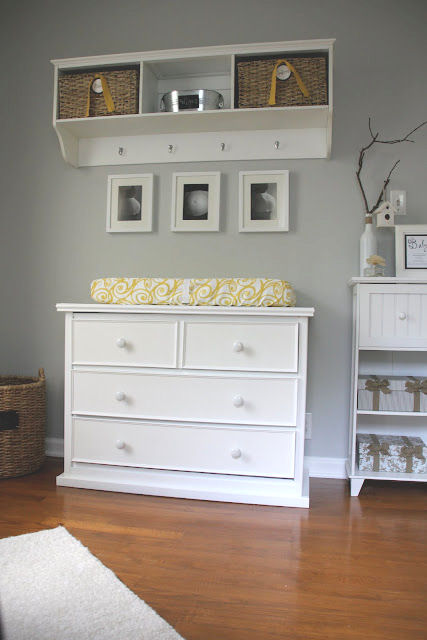 A number of decorative decisions were made at a time when Heather was working on a hunch that they were expecting a boy. Just in case her suspicions were off (for the record, they were not), she accented the neutral gray nursery wall paint with bright yellow rather than a gender specific color. Christian's talented mom whipped up the cover for the changing table cushion in fun yellow and white fabric. (Reminder to self: Ask if Christian's mother will adopt me.)
The changing table offers lots of storage (trying hard not to envy Heather her mother-in-law AND her organizational skills here) in its easily accessible drawers. The organization system, mounted on the wall behind the table, has hooks where Baby J's special outfits can be displayed on pretty hangers. Woven storage baskets organize a collection of pretty diaper shells and soakers and the metal bucket is the perfect size to hide a wipe dispenser. And Heather's maternity photos are just perfect!
Cleaning out the closet was one of the DIY chores listed on Heather's to-do list chalkboard which at one time included:
1. Refinishing the dresser that serves as a changing table
2. Ordering the baby's bedding or the fabric to make the crib set
3.
Painting the trim after painting the walls
4. Deciding whether she wanted wainscoting or not
5. Writing thank you notes
6. Washing her stash of cloth diapers and baby clothes and organizing them inside the closet, drawers and baskets
That's a long list she had! As we can see, she managed to get everything on her list done in plenty of time; everything has been beautifully completed and now they can relax and enjoy their son.
Thanks so much, Heather and Christian, for sharing your precious pictures with us. Everyone, please show your appreciation by leaving a comment that will count as a vote for Baby J's nursery. To see more of her ideas, please visit Mrs. Wigglebottom's blog!