Belle Baby Carrier Review
by Jan

When I opened the package to look at the carrier to prepare for the
Belle baby carrier
review and giveaway, one of the first things that caught my attention were the wider, padded straps. I base my ratings on a carrier's features that would make it a good candidate for hiking and carrying babies for longer periods of time. Chances are that if a product is suitable for long distance walks, moms who use it for quick trips are sure to find it comfortable.
The features that make baby wearing a pleasant experience are adjustability and padding for long-term comfort and support whether you enjoy them on quick strolls around the park or the mall or for walking many miles. Comfort for both mother and child is the primary concern in all applications but when wearing baby in public I want a baby carrier that looks good. When I'm going out and about and have taken the time to do my hair and makeup, I want my baby gear and diaper bags to coordinate with my outfit. I'm not keen on sacrificing my baby's safety and comfort or my own so a comfortable AND attractive carrier is essential to have in my stash.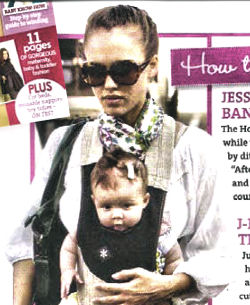 And this carrier is a FINE looking piece of equipment. I specifically requested the Organic Jubilee to try for this Belle Baby Carrier review because I loved the black and white damask pattern made of 100% organic cotton. The look is very modern and stylish and the black and white color works with just about any outfit which insures that I get to wear it out ….A LOT! I had my eye on the Organic Black Belle Baby carrier because I had seen pictures of celebrity mom, Angelina Jolie, wearing it in W. magazine and Jessica Alba wearing one as well. As chic and sophisticated as Angelina looked in basic black and Jessica Alba's black and brown carriers were, I chose the Organic Jubilee and I'm happy that I did; it's totally gorgeous. And I feel fashionable (like a celebrity?) wearing it!
It not only looks amazing, its organic cotton fabric is soft and lightweight but strong. The instructions say that I can machine wash it on the delicate setting or hand wash it and line dry which I haven't done yet, but I know it's coming.
The only problem with the pretty carrier that I chose is that it is feminine and my husband won't wear it. He doesn't really care about the color of the fabric or how the carrier that he uses looks so long as it fits and is comfortable except that he does like to look manly and masculine like most guys. Since I pampered myself for this promotion, I will just have to be sure that I always have one available that has absolutely nothing girly looking about it or he won't be as willing to share the load with me.
What I like about this carrier is that it feels good and allows both front and rear facing positions. I found it easy to adjust the tension so that the baby is held comfortably snug against me which is the best way to soothe a fussy baby that I know of.
The fact that the panel is made from 100% organic cotton fabric is reassuring and I like that none of it is between me and the baby. I believe that direct contact with babies helps to build a strong bond.
The Belle is a good carrier for infants since it comes with a head support panel to support their little heads although you would only use this panel when baby is in the inward facing position.
The bottom line of the
Belle Baby Carrier
review is that like so many other moms, I give this carrier 5 Stars! It feels good and I'm sure you know by now how attractive I think the Belle baby carrier is.
I hope that you have found my Belle Baby Carrier review to be helpful and that you will consider giving these carriers a try!
Please visit us again soon to see new styles that this brand has to offer as well as the latest in Unique
Baby Nursery Ideas
.