Baby Handprint Crafts, Art and Gift Ideas
Baby handprint crafts are very inexpensive and easy to make yourself. If you are interested in getting an actual foot or handprint from a wiggling newborn infant, things can get a tat messy but there are ways to get around working our decorative magic with babies if we are clever.



More pages about baby handprints and footprints.


Most parents want at least one plaster cast or set of baby ink handprints to save, but for decorating purposes where authenticity of the prints is not an issue, rubber stamps and handprint clipart and graphics may do a super job without as much fuss and muss.
BABY HAND AND FOOTPRINT CARDS and INVITATIONS
Some of the most popular baby handprint crafts are those that save baby shower hostesses money on invitations. These homemade invitations cute and right on topic so why not save that money to spend elsewhere? You can use little baby footprint stamps or you can print the decorations on the front of the cards using clipart or free footprint graphics that are online.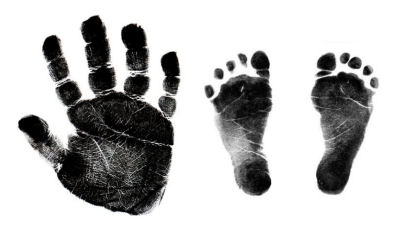 Go here to see more
handprint kits and products.
Framed Baby Handprint Crafts
A cheap piece of paper can be the foundation for a precious memento once they are decorated with a newborn's handprints and footprints. The trick to making the footprints into a beautiful decoration lies in the selection of paper, matt materials and frames. Get pretty colored inks and papers to match the baby's color scheme to be sure that your unique work of art won't clash with the decor. Write babies name and birth details across the bottom in calligraphy or have them engraved on the frame itself to personalize the gift. You can also add
baby footprints to many baby handprint crafts
for variety if you wish.
Baby Hand Print Crafts - Fabrics and Sewing
A package of cotton pocket tee shirts is an excellent background for an arrangement of sparkling, neon handprint images. A small handprint on the pocket for dad is plenty. Moms will love a baby handprint border around the neck of a t-shirt or criss-crossed colorful handprints all the way around the hem of the shirt.
A tablecloth for the craft table in the nursery one of the easiest baby handprint crafts. A big brother or sister will love to do all the work. The only part of this project where your assistance will be necessary will be at cleanup time. This is an excellent craft to do outside on the patio or picnic table.
Return to Unique Baby Gear Ideas to see more and crafts ideas that you can use in your decorating project.