Must Have Baby Gate Information and Options for New Parents

The need for a baby gate is often overlooked by parents when buying nursery necessities but the reality is that you will need at least one.  If your home has stairs, there will most likely be a need for one at the top of the stairs and one at the bottom.  This may seem like one of those "There is plenty of time to take care of that" projects.  Take it from me, the few short months between the time baby is born and the time he or she is capable of crawling (at a rate of speed you might never have imagined possible) literally flashes by at warp speed.

Here is a tip: Whether you want to buy a gate or DIY a wooden gate go ahead and take care of it ASAP so you will have it on hand when you need it.
And you will need it; trust me. Babies come with no filter for danger and death traps like stairs are just another opportunity to play a game of "Make Mommy and Daddy jump and run". While this can be entertaining for Baby, this little game is not so much fun for Mom and Dad.
Tips for Choosing a Baby Gate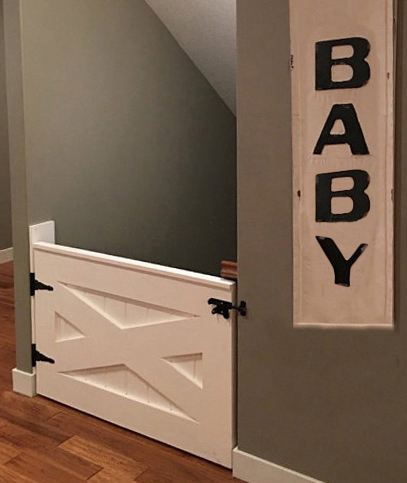 What Are My Options?
You have three options. Actually, four, if you enjoy playing a good game of "Make Mommy and Daddy's Heart Stop" a couple of times a day. But since you landed on this page: 1. Buy a plastic or metal gate
2. DIY your own gate
3. Have a wooden gate custom made by a woodworking professional
Read guidelines for baby safety gates here
You might make your own, homemade wooden gate after reading the safety rules and guidelines.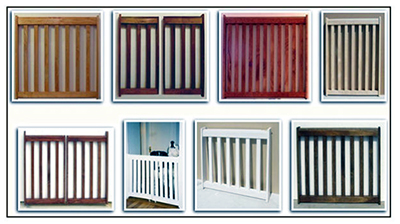 A wood gate is a top pick for anyone looking for style as well as function. Since this gate will be part of your home's decor for several years or longer if you have a pet. Not usually thought of as a decorative piece, a baby safety gate is worthy of an investment in the time or money to make it more attractive than a mass produced item.
Many parents buy a gate that functions just fine but replace it with one that reflects the style of their home as in the case with a DIY fabric baby gate.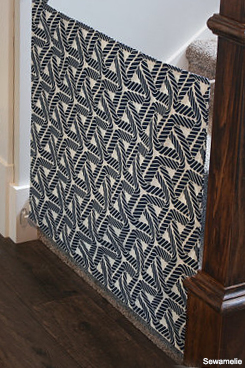 A gate made of fabric will not protect a child from falls the way a metal or wooden one will and therefore should not be considered a replacement.
They can, however, be used as a visual deterrent sending a message to a child to "go no further without asking".
I hope that the research
Unique Baby Gear Ideas
has shared on this and other pages on the topic of baby safety gates will help you all make decisions that work well in your situation and that you will join in the conversation and share your thoughts, opinions and project pictures if you choose to take the DIY route and build your own wood baby safety gate.