Homemade Fabric Baby Gate
Ideas.  Free Fabric Gate Patterns and Tutorials

The benefits of a homemade fabric baby gate are that they can be made of fabrics in colors and styles that match the existing decor while doing an excellent job of deterring your child from entering areas where you might not want them to be.

It would be easy to match your safety gate to the upholstery or drapery making this valuable piece of baby gear practically invisible.
Our visitors that already own a sewing machine can use the free fabric baby gate patterns that we have listed below to get started on this project right away.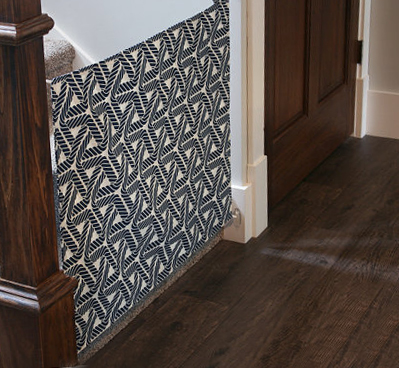 Visit Sewamelie
to see more examples of homemade fabric baby gates including the black and white one and others seen in the pictures on this page.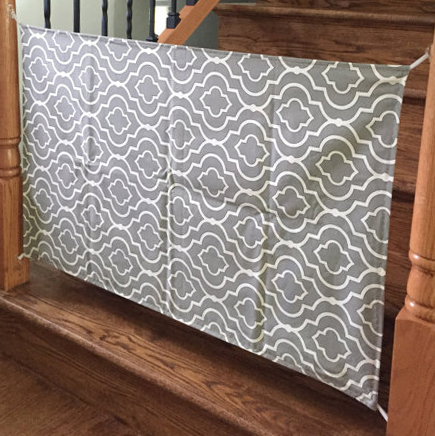 Safety Information
A very important consideration for parents before proceeding with making their own or buying is that only a solid, homemade wood baby gate with hardware attached is suitable for used at the top of the stairs.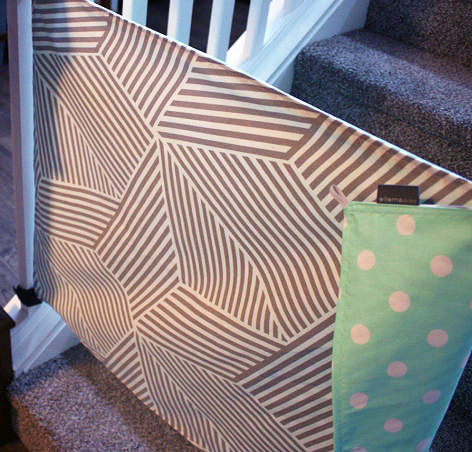 The gate can be sewn with a variety of fabric patterns.
Even the most sturdy fabric gate is not advisable for use at the top of a staircase. Plus, a fabric gate may not be the best choice if your little one is already familiar and aware of stairways or areas where you would rather they not be. This type of gate serves more as a visual rather than a physical deterrent to the base of the stairs, hallways, and rooms.
Basically, this means that the craftier your little Houdini may be, the stronger the barriers must be.
Free DIY Fabric Baby Gate Patterns and Tutorials
Take a look at the list of equipment and basic supplies to determine whether this sewing project is cost effective or if it would be better (read: cheaper) to buy one ready made.
A sewing machine capable of handling upholstery or home decorating weight fabric. 

An iron and ironing board
Sharp, heavy duty scissors
A self-healing cutting mat
A rotary cutter
A clear, plastic ruler
Miscellaneous notions (depending on the tutorial you choose)

Thread

Approximately 2 yards of canvas, upholstery or other heavy fabric is needed to make a gate sized 30" high by 43" adjust as needed for your opening
I took a look at a few of the
free fabric baby gate patterns
and tutorials and here are the ones that I feel are worth the time and cost of material.
1.
This
tutorial is for a gate that is made using a sandwich of fabric and fiber fill batting. There are lots of photos and good step-by-step instructions.
Recommendation:
To me this gate would look nicer if it was hand quilted to hold the layers together. Just my opinion. 2.
This
tutorial is a little different than the first. Fabric and batting are still in the mix but the results are not soft; check it out.
3.
Here
is a tutorial that uses quilted fabric.
There were a few more free homemade fabric baby gate patterns floating around out there on the web but the instructions in the ones I listed seemed more detailed and easy to follow even for beginners.
You should know that the use of any fabric baby safety gate ideas that I mention will be at your own risk. I assume no responsibility for any injuries if this or any of the projects, crafts or basically anything mentioned on
Unique Baby Gear Ideas
doesn't work out or causes harm. You must be the judge and make decisions as to the project's safety or your child's behavior before using a DIY fabric baby gate since I nor any organization have tested any of the DIY fabric baby gates made from the aforementioned patterns.