DIY Baby Bed Canopy Ideas
How to Make a Baby Crib Canopy Work With Your Nursery Wall Decor

I have recently gotten requests for DIY baby bed canopy ideas.  So many of you would like to buy or learn how to make your own baby crib canopy but are not sure how to choose the fabrics or make one that will work with the nursery's wall decor. 

We have many examples to share with you that will show you how others who chose to buy one of the bestsellers from SoZoeyBoutique or take the homemade route incorporated these versatile accessories into their decorating project.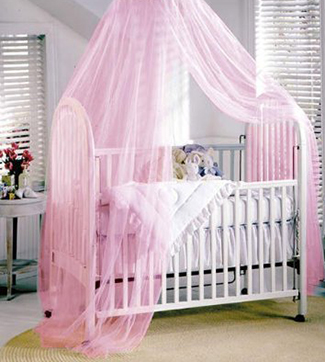 Go here to get more
crib canopy ideas as well as fabrics and netting that can be used to make your own crib canopy in any size or color you need for your project.
Choosing fabric in a pattern and color that will complement the
baby bedding
is a primary consideration.
A round medallion trimmed with faux fur on the front of this canopy created by SoZoeyBoutique (Etsy) features a portrait of Princess Elsa.
Some of the most popular
baby nursery themes
are based on the latest Disney movies.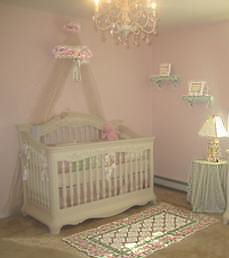 In this example a store bought canopy with antique white netting was customized with a wreath of pink silk roses.
Pink and White
Baby Girl Nursery Pictures
Ideas for Disney Fans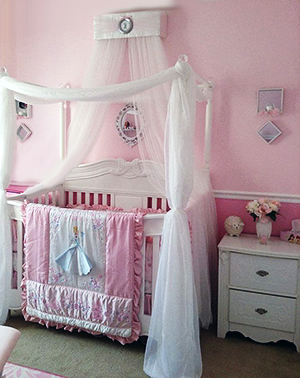 This features the creative technique of combining one canopy mounted on the wall with another over the crib. The one on the
baby's nursery wall
is a SoZoeyBoutique design. The other is a simple DIY crib canopy created using a length of fabric attached to the four posts on each corner of the crib. This would be a perfect project for beginners that want to make their own crib canopy but have few sewing or crafts skills or supplies on hand.
There are other Disney themes that have nothing to do with princesses that offer bold contrasts and a fun-filled atmosphere.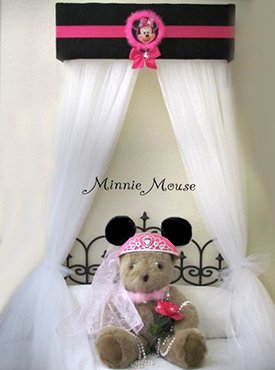 Disney fans as well as moms looking for inspiration for a pink and black nursery color scheme will appreciate this baby bed canopy idea by SoZoeyBoutique.
This crib canopy is so cute with a set of
Minnie Mouse baby bedding
.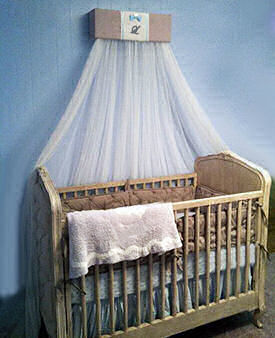 Crib crowns and canopies are not just for a baby girl's room. Burlap fabric adds just the right amount of rustic charm and texture to a blue and brown nursery color scheme.
How to Make Your Own Baby Bed Canopy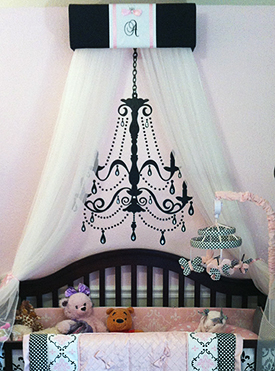 After you choose your bedding, color scheme and have fabric in hand,
THIS
tutorial has clear written instructions with pictures that will take you through the process step-by-step.
Refer to
pictures of baby girl nursery
designs for more tips on choosing a style and fabric selection.
No-Sew Crib Canopy Video Tutorial
This instructional video
will show those of you who don't own a sewing machine how to make your own DIY crib canopy.
Thanks to SoZoeyBoutique for allowing me to share her baby bed canopy ideas with visitors that stop by
Unique Baby Gear Ideas
searching for nursery decorating inspiration.