A Baby Girl's Neutral Nursery Decorated in Colors You Will Love
by Jan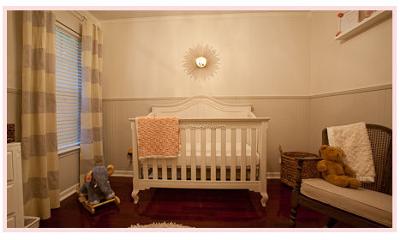 The sunburst mirror on the wall over the baby girl's crib adds a touch of metallic gold to the neutral nursery wall color.
My baby girl's neutral nursery is decorated in colors you will love! You will also note that there is a slight hint at not just one, but several, unisex baby nursery themes that are so cute.


What I am so very proud of and what I really want you all to see is how I used textures and understated shades of tan, beige and ivory.



See more Baby Girl's Neutral Nursery Decorated in Colors You Will Love in our photo gallery.
I really struggled with the concept of low-contrast colors until I found example here on Unique Baby Gear ideas that were so very helpful in giving me visuals to work with.
Go here to see more
The nursery pictures helped me understand how blending colors and adding wooden trim can help make rooms seem larger.
The baby's initial, "K", is wrapped in twine, decorated with rosettes made of ivory fabric and matching, satin ribbons and bows.
The letter is on display by the door to the side of the owl nursery wall art.
The owl painting reflects the paint color chosen for the room as well as the color of the baby's wall letter and striped curtain panels.
A sleepy lamb, an owl and a cuddly teddy bear await the arrival of this special baby girl.
The area of the baby's crib is accentuated by the metallic finish of the sunburst mirror. Great care was taken so that its location wouldn't present a safety hazard to the little one. Mom says that it's very secure and was all but built into the wall so that there will be no problems!
A trio of framed prints give a nod to a classic, yellow ducks theme.
Mom had been looking for the right place in her home for a pretty chandelier to correspond with her
unisex nursery ideas
. She searched until she found the ideal chandelier for the space!
Note how the rosettes complement the carving in the wood of the crib and the fabric rosettes of the wall letter.
This is a very tasteful design repetition in three separate mediums, fabric, wood and metal that gives the room's decor a sense of balance and continuity.
I hope that you have enjoyed
Unique Baby Gear Ideas
' nursery tour and love the unisex nursery ideas as much as I do! Please visit
Honey Dos and I Love Yous
blog to see more photos. Please take a moment to tell mom and dad congratulations on the birth of their baby girl using the comment form we have here to make it easy!