Winnie The Pooh Pictures and Wall Art for a Baby Nursery
Winnie the Pooh pictures will certainly add to your Winnie the Pooh Nursery Theme. You can have too much of any theme accessory even our beloved Baby Pooh, so break it up with some pictures of Eeyore, Piglet and some other 100 Acre Wood friends.



Visitors Shopping for Winnie the Pooh Wall Art for a Nursery Also Enjoyed these Pages:

Winnie the Pooh Nursery Bedding

Winnie the Pooh Baby Shower Invitations

Baby Winnie the Pooh Nursery Theme



Find a good excuse to decorate in purple and pink by using picture of Pooh's friends Eeyore and Piglet as inspiration. If you focused on Pooh alone your primary colors are yellow-ish orange and reds.


We have many examples of nursery designs where Winnie the Pooh pictures have been used with great success as wall decorations.
We are so fortunate that Pooh had a friend or two that came in other colors! Pictures of Winnie the Pooh and Baby Pooh's Friends will give you a lot of leeway in choosing the best color scheme for your Winnie the Pooh nursery theme and ideas for painting the nursery walls and arrangements of Winnie the Pooh pictures.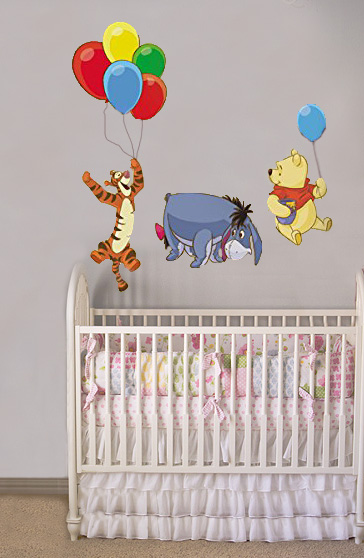 Go here to see more
.
For a baby girl's Baby Pooh nursery, the best colors to paint the nursery range from a pale lavender or purple that will pick up the colors from Eeyore to buttery yellow shades that can be accented with honey bees swarming around the honey pot! If you want true versatility, paint the baby Pooh nursery walls a neutral ivory and use your accessories to supply the pops of color.
Winnie The Pooh Baby Shower Invitations
Winnie the Pooh Invitations
Winnie the Pooh Baby Bedding
Winnie the Pooh Curtains
Winnie the Pooh Baby Nursery Theme
Winnie the Pooh Fabric
Winnie the Pooh Wallpaper
You will need other Baby Pooh nursery wall decoration ideas that would add to your Winnie the Pooh theme that add without screaming POOH! I found that it's best to choose just a few theme pictures that you love in for baby's room. A few themed pictures and accessories go a long way towards getting the message across. Don't overdo it! At the very most, you might want to consider a wallpaper border. Put your Pooh pictures and accessories on rotation to keep your kids rooms looking fresh and newly decorated.
Here are some ideas for other wall decorations to blend and accent your Winnie the Pooh nursery decor. Stencil or paint a few of these motifs:
A honeypot A tree in the 100 Acre Woods
A rainbow in a sky filled with fluffy white clouds
A beehive
A quick an easy way to decorate the nursery wall is to use Winnie the Pooh pictures decals or stickers to design an easily removable wall mural. Visit Unique Baby Gear Ideas often for tips on arranging and hanging artwork in your Pooh nursery project.
Once you have chosen the fabrics for the baby bedding , window treatments, the nursery rug and your Winnie the Pooh pictures your project will be complete!
Examples of Winnie the Pooh pictures available for your baby's bedroom range from a classic vintage scene to a more current Disney type posters. Here are a few Winnie the Pooh and Friends pictures to choose from!