Free Printable Winnie the Pooh Invitations to Make Using Template Downloads
Free printable Winnie the Pooh invitations for parties in every style and taste are available in a variety of sizes, shapes and colors. Download a colorful template featuring pictures of Winnie the Pooh and friends just hanging out by the honey pot in the 100 Acre Woods or design your own elegant, embossed card in powder blue and white for baby boys and pastel pink for a sweet baby girl.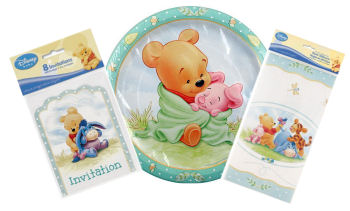 Winnie the Pooh Baby Shower Gift Ideas
Winnie the Pooh Baby Items

Classic Winnie the Pooh Nursery Décor Ideas

Winnie the Pooh Nursery Curtains

Winnie the Pooh Pictures and Art

Winnie the Pooh Fabric

Winnie the Pooh Nursery Wallpaper

Of course you also have the option of using printable Winnie the Pooh invitations using free templates and graphics that are readily available online. If you already have blank cards, you have all that's necessary to print Pooh Bear invitations for your baby's party.
If expensive, colored ink is an issue you can create your Pooh baby shower invitations using stickers or decals. A picture of Eeyore, Pooh or Piglet in the corner of your card will get the job done for an extremely affordable price. Use another sticker to seal the envelope and everyone will think that you made your envelopes with a kit.

How to Make Your Own POOH Party Invitations Using Rubber Stamps
Stamping is an excellent way to make classic Pooh baby shower invitations for a cheap price. You can pick up a set of stamps at the craft store with all the Winnie the Pooh characters or have a custom made stamp with any graphics and images that you like straight off the pages of the storybook. With some embossing powder and a heat gun you should be able to put together some really cute Pooh baby party invitations for a very cheap price.
Pooh Baby Shower Invitation Wording and Poems
Along with the pertinent details regarding time, place and who the guest of honor might be you might want to exercise your poetic inclinations and come up with a clever baby shower invitation poem. Just a few lines with wording that rhymes and mentions Winnie the Pooh is all that's necessary. Here's an example of a baby poem that you can rewrite to fit the theme of Winnie the Pooh invitations for your baby shower:
Pooh and friends are always funny
So, please join us on (date of Pooh baby shower) to welcome (friend's name's) honey.
Here is a sample of a poem for a Winnie the Pooh Baby Shower Invitation
Hanging out by the honey tree is so much fun
We need more special guests
and you can be one!
Return to Unique Baby Gear Ideas for more information on baby shower invitations, wording and themes.