Win a Gift Basket for Christmas
by Jan
It's so easy to order a gift basket for Christmas from GourmetGiftBaskets.com to send to my loved ones that I may never box and ship another package again! I could search the world over and not find a nicer gift for $24.99 (less than $25!)! This is the perfect gift for an individual when money is tight and if you have the budget, there are also larger baskets for sale that are filled with salty and sweet snacks that will come in handy when friends drop by during the holidays.

To be honest, our gift basket probably won't last until Thanksgiving much less Christmas. Anything crunchy or chewy disappears pretty quickly around our house since I always call dibs on anything chocolate, the hubs grabs the trail mix and the girls get the cookies (so long as they aren't baked with nuts).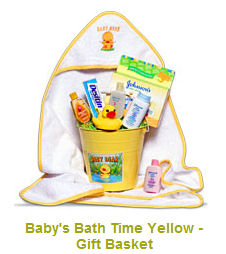 Another advantage of Gourmet Gift Baskets.com is that if (or when) I should need a last minute gift for a friend with a new baby, ordering online is a lifesaver. I don't have to fight the holiday crowds at the mall or get the girls out in the cold. There are times when I enjoy loading baskets and gift boxes with special gifts for new moms and babies that they might not think of buying for themselves but it's so good to know that when I'm swamped I have options.
This December if I need a
gift basket for a baby shower
I know that I can count on Gourmet Gift Baskets to have a large selection to choose from. There are pretty floral baskets that include fresh fruit, candy, cookies and many other gourmet foods and even some champagne for toasting.
GIFT BASKETS FOR NEW FATHERS
Speaking of beverages, if there's a new dad on your gift list, you're in luck! There are lots of baskets just for the guys like the one my dear husband has his eye on that's filled with beer.
A TIP
If you would like to personalize the basket with a few special items, just request for the delivery to be made to your house, tuck the personalized gifts inside and then deliver it yourself. You will still save time and the gift looks like you spent hours shopping and assembling it.
At this time of year, thinking of appropriate gifts for our business associates, friends and family can gobble up a lot of time if you let it. This season, why not make a change and let gourmetgiftbaskets.com make your life easier and more festive by sending a basket of food, flowers and gifts that is always appreciated.
And you know how hard it is to find something for grandparents? Well, no more! There are special baskets especially for grandmothers and grandfathers . How cool is that?
THE REVIEW SHIPPING
When ordering a gift basket for Christmas, dependable delivery is an issue. After having dealt with this company more than once, I know that under normal circumstances they have a very fast delivery time and you can actually tell them the date that you would like for the package to be delivered.
PRESENTATION
There is nothing worse than opening a box only to be disappointed in the appearance of the item that you ordered. I have always been pleased with the appearance of gift baskets from this company. The raffia bow needed to be fluffed but other than that it looked amazing right out of the box.
QUALITY and QUANTITY
Complaints that I've had with other mail-order gift basket companies were that there was lots of filler in the bottom of the basket with very few goodies on top. I felt so cheated! Yes, it looked exactly like the picture in the catalog or on the website, but the images were deceiving. I am more than pleased with the contents of this basket; gourmentgiftbaskets.com is not stingy with the snacks and they are very fresh which is also important!
ABOUT GOURMETGIFTBASKETS.COM
GourmetGiftBaskets.com has been featured in some very popular magazines like Woman's Day, The New York Times, Food & Wine and The Gourmet Retailer and Bon Apetit. Plus, they've been mentioned on television programs like The Today Show, The Early Show and on Fox news. This company is famous and their products are so affordable; what more could you ask for?
NOW..would you like to win your own gift basket for Christmas, a baby shower or other special occasion?
Here are the rules of the Gift Basket for Christmas Giveaway
Gourmetgiftbasket.com is offering one lucky winner the very same Christmas basket filled with gourmet snacks as the one they sent me which has a value of 59.99.
As your
MANDATORY ENTRY
you must "Like" (become a fan) of Gourmetgiftbasket.com's Facebook page, http://www.facebook.com/gourmetgiftbaskets and
LIKE
Unique Baby Nursery Decorating Ideas
as well posting on both walls and leaving your username in your comment/entry or it WILL NOT COUNT.
To score extra entries:
1. Check out
Baby Gear Reviews
Youtube videos, subscribe, leave a comment on one and return to tell us for
10 bonus entries
2. Follow
msbaby
on Twitter and tweet: Check out the FREE Gourmet Gift Basket Christmas Giveaway hosted by @msbaby – Enter to win here: https://www.unique-baby-gear-ideas.com/free-baby-stuff.html shorten url and leave a comment. Tweet the basket giveaway DAILY and leave a comment.
3. Enter one of our other contests for a chance to win
FREE Baby Stuff
, Kids' toys, etc. or gifts for moms! (1 entry for each contest you enter)
4.
5 ENTRIES
– Blog about the FREE gourmet Christmas gift basket giveaway linking to this page and provide a link to your post. (Post FIVE separate comments for this!)
5.
10 ENTRIES
Visit our nursery pictures gallery featuring many beautifully decorated nurseries that our moms have entered in our
BABY NURSERY PICTURES CONTEST
and
and vote for your favorite in the comments section
then tell me where I can find your vote for 10 entries and be sure to tell the moms which of the
baby nursery ideas
is your favorite.
6. Add my website's button with the pregnant chick on it to the sidebar of your blog or website (if it's already there, let me know (it won't count if it's on a page where nobody will see it) and post the link to your blog in your comment (2 separate entries) using THIS CODE:
https://www.unique-baby-gear-ideas.com/images/ubgibutton.jpg
7. Link to our
baby blog
on your blogroll (using my URL), with a link back to this site!
(10 entries)
8. Add a link to
Baby Shower Decorating Ideas
blog to your website or blog (using the provided URL), with a link back to me!
(10 entries)
9. Follow
Unique Baby Shower Ideas
in GFC (5 bonus entries)
The
Gift Basket for Christmas
giveaway will end at midnight, Wednesday, December 16, 2011 and is open to residents of the United States only (void where prohibited by law).
The winner of the free gourmet Christmas gift basket will be contacted via email and will have 48 hours to confirm before a new winner is chosen.
Thanks to
Gourmet Gift Baskets.com
for their sponsorship and the delicious goodies and Christmas basket they sent me to review! I received a gift basket to review but no other compensation.
There is No Purchase Necessary to enter to win the prize in this contest and I received no compensation for my review or opinions.