Where Can I Buy Spring Bolts for a Homemade Crib
by Ruth
(Brooksville, FL)
Where can I buy spring bolts for a homemade crib that we made for our baby? I need replacement spring bolts for the fold-down side of the baby crib.

We made our own convertible crib when our kids were born 33 years ago.

Now, our daughter would like to sand it down, refinish it and use it for her baby.


We need to find a replacement for one of the spring bolts that is missing from the fold down side of the baby bed.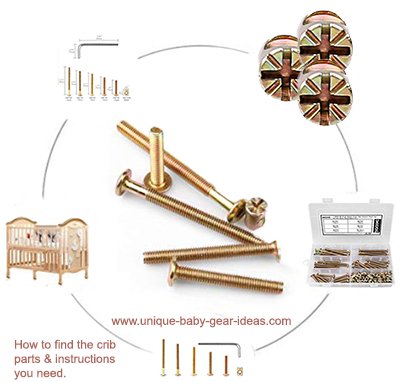 Go here to see the
inventory of bolts and springs available to build and repair DIY baby cribs.
If anyone has any suggestions for a resource that carries these metal spring bolts, please contact me using the space below (including your preferred contact information should I need to get in touch with you!).
Unique Baby Gear Ideas
encourages our visitors to share their resources for crib replacement parts, alert us to crib recalls and to consider writing reviews of their cribs to make our little community of expectant parents aware of any problems that are associated with different models and brands.