Charming Vintage Baby Shower Invitations and Party Decorating Ideas
Vintage baby shower invitations are the beginning of your guests' escape from the pressures of the day. Take your friends on a nostalgic journey back to the days when stress was properly matching a strand of pearls, earrings and a hat for a trip to the market to buy ingredients for the family meal.
If you dig too deeply into the realities of the "Good Old Days" 1940s, 1950s and 190s you might find that they were not everything that the reruns of Father Knows Best and Leave It to Beaver might have you to believe but to ignore the charm of the style from days gone by would be big mistake.


You may be able to find free baby shower invitations in old fashioned styles with a quick trip to your grandmother's house. Don't you have a cache of leftover cards from every party you ever hosted? After you have exhausted that resource, it's off to search online auctions and flea markets.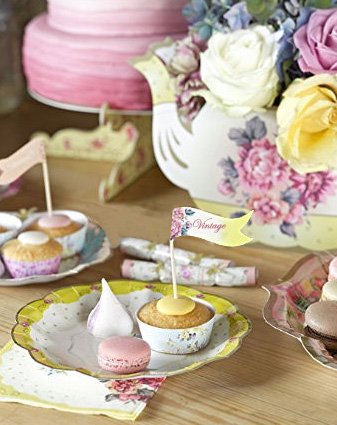 Go here to see more lovely ideas for your vintage shower.
MAKING YOUR OWN
If your forays down those avenues produce less than satisfactory results, you have the choice of using free baby clipart and printing your own old fashioned cards or locating a printer that offers a selection in vintage invitations and party decorations.
Vintage Baby Shower Ideas
Invites with old-fashioned poems and decorations chosen according to what was popular back in the 1950s may be all that's required but you want your guests to have fun! What could be more entertaining that to ask your friends to come dressed as their favorite movie star mom from the 50s?
Go here to see
the delightful tableware that matches this vintage birdhouse themed cupcake and dessert display.
Playing dress up with old-fashioned hairstyles like French twists, flips or Jackie Kennedy's famous pageboy, shirtwaist dresses and heels for a few hours will be a blast! A prize for being the best celebrity mom out of the black and white sitcoms will sweeten the deal.
Vintage Baby Shower Wording and Poems
Once you find the best vintage baby shower invitations for your party, you will want to use old fashioned wording that is appropriate to the look and feel of the card. You may want to include a few lines from a short vintage poem to set the tone.
Here's an example of a vintage baby shower invitation poem for a boy:

Join us to celebrate a family's most precious joy,
An arrival of most precious worth,
A darling baby boy.
VINTAGE BABY SHOWER THEMES
Old fashioned illustrations and graphics are one of the very attractive characteristics of any era that are worth hauling with us from century to century. The watercolor drawings found in children's storybooks are a perfect example of the visual serenity that is desirable for use in designing vintage baby shower invitations and decorations.
Perfect examples of this would be Beatrix Potter or Peter Rabbit baby shower themes or even the lesser known storybook characters, Jemima Puddleduck and Jeremy Fisher. When you think of it, many of the most popular baby shower ideas in modern times still include bunnies, ducks and frogs only in brighter colors and bolder designs.
VINTAGE BABY SHOWER THEMES
There are any number of ways to plan a vintage shower for a baby boy or girl, but here are a few suggestions.
VINTAGE SHOWER THEMES for BABY BOYS

VINTAGE AIRPLANE BABY SHOWER
VINTAGE COWBOY BABY SHOWER
VINTAGE TRAIN BABY SHOWER
VINTAGE BABY SHOWER THEMES for BABY GIRLS

VINTAGE COWGIRL BABY SHOWER
VINTAGE TEA PARTY BABY SHOWER
Please come back to Unique Baby Gear Ideas to see nursery decorating ideas for boys and girls with examples of vintage nursery designs with DIY and craft projects that you can do yourself.