Twin Baby Shower Cake Ideas in Popular Themes and Colors

We have pictures of twin baby shower cake ideas with recipe and frosting tips.  There are homemade baby shower cakes for twins with easy recipes and decorating ideas for those who feel they are up to the challenge of baking their own unique creations.

Plus, we have suggestions for toppers to make or buy according to your theme or party colors.
You will also see wording ideas that pertain to twins which are, as we know, twice the the giggles, twice the fun and twice the love.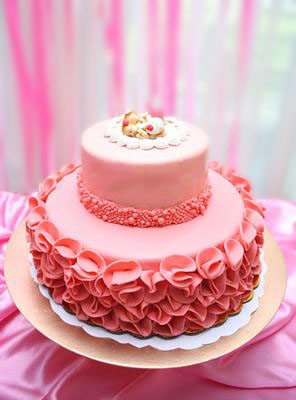 This two tier cake was covered in fondant and then the first layer was frosted using
ruffle frosting tips
.
Twin Sleeping Baby Girls Cake Topper
I made the twins for the cake topper the day before I actually made my cake. Do not panic; the babies are easy to make. They are made using
silicone fondant molds
. The silicone molds are reusable and very inexpensive. If you can roll fondant (Think Play-Doh if the very mention of the word intimidates you. And I promise it gets easier) into a ball, you can pop out adorable little fondant babies by the dozens!
The use of the molds are pretty straight forward but here is a video with visual instructions.
Yellow Butter Cake Recipe
I used the basic butter cake recipe on
this page
. You will also find a list of tools and tips that will help your first fondant cake project much easier on the same page.
Covering the Cake with Fondant
Fondant and I have a love-hate relationship. Some days I love the flexibility and intensity of the colors that I can achieve and other days I am strictly a fan of buttercream frosting. This cake gave me the best of both. There were several mistakes on the bottom layer that were covered with the buttercream frosting ruffles.
Twin Shower Cake Ideas in Popular Themes
Popular cakes for twins include:
Those are just a few ideas to get you started. As you get further along in your search through galleries filled with pictures of baby shower cakes you will see that practically any theme can be adapted for twins.
Please visit
Unique Baby Gear Ideas
to share your twin boy or girl shower cake ideas with our visitors and to upload photos of your edible creations.