Tea Collection $100 Gift Card giveaway
by Jan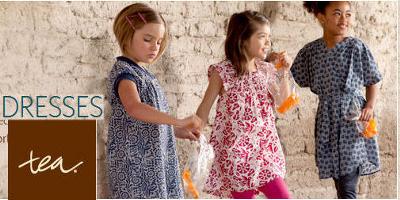 Tea Clothing Collection Fall 2011
Once again, I was dying to ask for $100 in free baby clothes when the Tea Collection $100 Gift Card giveaway and review came my way because the rompers in their fall clothing line are just so cute! But I had enough hand-me-downs for the baby so that once again my oldest daughter gets the clothing to try for this review.


Tea Collection always has the cutest clothes for older kids as well as baby clothing and they are very well made as I mentioned in the review that we did last spring. I allowed my big girl to choose the outfits that she liked the best in May and she did a great job so I let her pick her favorites once again and turns out she really has an eye for what works well with her coloring.

Even though we actually held big girl clothes in our hands I feel that the samples provide an accurate depiction of Tea's dedication to quality so that the review is helpful to my moms that visit our website looking for
Nursery Ideas
and baby clothes reviews to learn more about companies that offer high quality clothing that will look good until their babies (or kids) outgrow them.
With those objectives in mind, we went shopping on the Tea Collection website to see what we could find for fall. Right away I liked the style of their Modern Mexico 2011 line and my little girl could not have been more delighted if she had received a $500 gift card to her favorite candy store.
Qualities I Shop for in Girl's Clothing
I look for clothes for my girls that are easy to wear and care for. I don't have enough free time to spend petting fragile fabrics and ironing; I need clothes that are ready to wear right out of the dryer and so far every sample we got from Tea Collection has been low to medium maintenance.
I give the credit for this to the fabric that the clothes are made from. They have a lovely substantial hand while still being soft to the touch and kind to my little girl's still tender skin.
WHAT SHE ORDERED
It was amazing to see how carefully Cass went about choosing the outfits she wanted to try for the Tea Clothing Review. This fall, I gave her even more freedom since the first review that I did for this company impressed me so.
They have so many adorable Mexican style prints and outfits with richly colored fabrics and patterns that she loved. Since her favorite color is blue, I advised her to make selections with that in mind. She looks super in any color but especially wonderful wearing any shade of blue and to a lesser degree, brown.
The results of Cass' shopping spree turned out to be one beautifully embroidered "Modern Mexican" dress in brown that will be perfect with leggings for fall and a raspberry pink and white dress that she can wear with her favorite white sandals until Labor Day and then with a wine colored top underneath and leggings until later in the fall.
Upon opening the package from
Tea Collection
I saw that everything was accurately portrayed in the pictures on their website and that the fabric was very high quality.
In addition to the mixing and matching capabilities of the outfits, they are all easy on, easy off and comfortable to wear with no constant pulling and tugging needed to keep them in place.
The little dresses can be dressed up or down depending on the hair ornaments and shoes that you choose as accessories. I can definitely see Cass wearing the embroidered Mexican style dress to Sunday school and church a few times before using it as a casual outfit.
Tea Collection $100 Gift Card Giveaway
Michelle, from the Tea Collection is so confident that anyone who dresses their little ones in their clothes will become a repeat customer that she is offering one lucky visitor to Unique Baby Gear Ideas an opportunity to win a FREE $100 gift certificate to spend on something from their online store!
How to enter Unique Baby Gear Ideas' Tea Collection Clothing $100 Gift Card Giveaway
Whatever you do
PLEASE
remember to leave your email address! I will have no way to contact you if you do not leave your contact information! I don't sell your addresses so there's no reason to be afraid!
To enter for a chance to win the gift certificate, you
must
like both
Unique Baby Nursery Decorating Ideas
and
Tea Collection
on Facebook and post on each wall. Please include your Facebook name in your entry for verification purposes.
How to get be sure your Bonus Entries count!
There are several ways that you can pick up some extra chances to win! Leave a separate comment for each of the following actions you take (example: "I blogged about the $100 gift card giveaway #1 (url), I blogged about the free gift card giveaway #2," etc.) Don't forget to leave your email addy!
Here are some of the ways you can really rack up lots of bonus entries in this giveaway:1.
10 BONUS ENTRIES
Visit our
Baby Nursery Pictures contest
and vote for your favorite via a comment then return to tell me which nursery got your vote. (10 Entries)
2.
Tweet, or post a Facebook update about the Tea Clothing Collection giveaway on Unique Baby Gear Ideas! (one entry for each action that can be performed daily and you must leave the link here each time)
3.
Post about this giveaway in a giveaway linky or post a link to the contest in an online parenting or pregnancy forum (1 entry per post). Please leave the url to the linky or the forum post.
4.
Follow @msbaby on Twitter(1 entry) and @TeaCollection on Twitter (1 entry). Give your Twitter ID and link to twit in your comment. Current followers of msbaby and tea collection get this bonus entry instantly but you must still provide your twitter id!
5.
Get one (1) extra entry for each additional giveaway on Unique Baby Nursery Decorating Ideas that you enter. Leave a comment stating which contest with a prize that you want bad enough to enter! You can find a current list of contests and giveaways under the "
free stuff
" button on the nav bar.
6.
Follow
Unique Baby Shower Ideas
via Google Friend Connect (on the blog's sidebar) and leave your GFC name in your comment. Current followers count instantly but you must provide the info in a comment for verification. (1 entry)
7.
5 Bonus Entries Blog
about the Tea free gift card giveaway and post a link to your blog post (5 entries).
8.
10 entries
Add Unique Baby Gear Ideas to your blog roll or on your website (10 entries) or grab my button using the following code and post it on your blog. Don't bury it on some unattached obscure page and expect it to count though!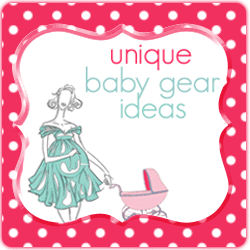 9.
Subscribe to Unique Baby Gear Ideas' RSS feed via a reader (1 entry).
The Tea Collection Clothing $100 Gift Card Giveaway is open to US Residents only and ends on August 30th, 2011 at Midnight!
The free Tea gift card giveaway is open to U.S. residents, and will run through 11:59 Eastern Time on August 30, 2011. The winner will have 48 hours to respond to my email (add uniquebabygear at bellsouth.net to your trusted folder), or another winner will be drawn. I am to be held harmless for defective products, or be held liable for lost mail, prizes that don't arrive, etc. but if you don't receive your prize, please contact me so I can make sure the sponsor has mailed it to the correct address. Good luck!
Disclaimer: I (actually Cass) was provided with the outfits mentioned in this post for review... however my opinion is ALWAYS my own and I am never paid for posts.