Surf Theme Nursery Ideas
by Jan
These photos are a treasure trove of surf theme nursery ideas. Expectant moms and dads love to keep memories of their surfing vacations alive by decorating the nursery with surfboards and baby gear in tropical colors.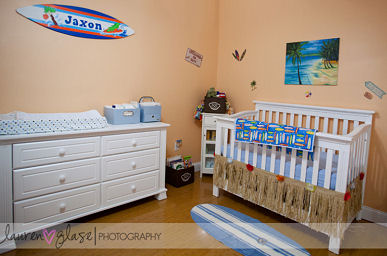 Photo Courtesy of Lauren Glase Photography

Take for example this
baby boy's nursery theme
design that features colorful, surfboard wall art that has been personalized with his name.

Go Here to See More
The decorator of this room made good use of surfboard
nursery wall decals
that are easy to apply and personalize with a baby boy or girl's name. FYI they can be custom ordered online in any color combination you need to complete your nursery's color scheme. You can also use a wall rack to put your personal board on display over the baby's crib but why damage the paint if you don't have to, right?
A table skirt decorated with tropical, Hawaiian hibiscus flowers has been used as a crib skirt that complements the
surfboard theme
of the baby bedding and crib quilt.
One of the best
surf theme nursery
ideas as far as comfort is concerned would be the addition of the nursery rug.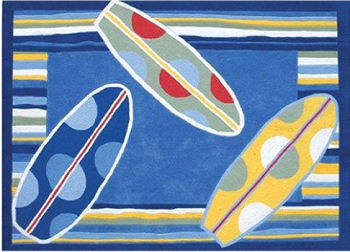 See More Selections Here
The baby blue and white surfboard rug softens the floor in front of the crib where mom will spend a lot of time during baby's first few months plus it reflects the artwork on the opposite wall balancing the decor.
I hope that you have found some ideas in for your own surfer baby's nursery and that you will consider posting photos of your project when you're done
decorating the nursery
.