Stripes and Polka Dot Nursery
by colleen
(richmond, va)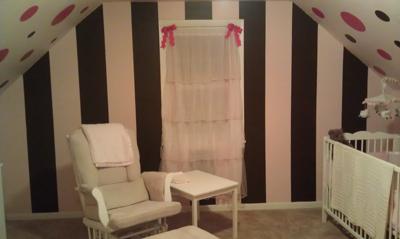 Pink and chocolate brown stripes on our baby girl's nursery wall painted by my husband.
I came up with the idea to do a pink and brown stripes and polka dot pattern rather than decorating in a vintage teddy bears theme. I love old things and even had a collection of teddy bears to use as inspiration but I didn't know what to do with the theme from there and I knew that I didn't want a cartoon nursery theme.



Hitting a wall with the other theme was a disappointment but I love the way the project turned out.




Go Here to See More
We painted the whole room a light shade of baby pink and then my husband painted the dark brown stripes one Saturday which, by the way, was not that easy.
After my husband had the stripes on the nursery wall completed we then added the hot pink and dark brown polka dot wall decals to the slanted ceiling.
To finish the room, I added any hot pink, baby pink or dark brown decorations that I could find and in the end, I did add a few teddy bears.
The room's design is pretty simple and will work for our baby girl years minus the baby "stuff".
I hope that
Unique Baby Gear Ideas
' visitors find something in the pictures of my daughter's pink and brown polka dots nursery that they can use in their own project.