Sophisticated Jungle Baby Nursery Decorating Ideas
by Courtney
(Beaver, PA)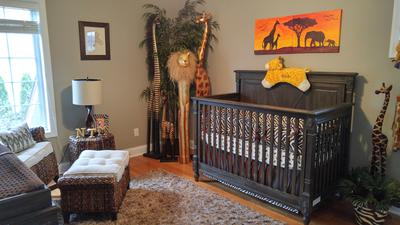 The baby's crib in our jungle baby nursery theme
I found the inspiration for my sophisticated jungle baby nursery decorating ideas when my mother and I were shopping for an owl figurine for a high school graduation present at Pier 1 Imports. Instead of the graduation gift, I stumbled upon large giraffe, lion, and zebra wooden statues that were to become focal points for our jungle nursery.


I was 8 weeks pregnant at the time and did not even know my baby's gender so I was not entirely convinced that this would make for the perfect theme out of all the baby nursery themes I might consider until I heard the song "Africa" by Toto blaring through the store's sound system.



I took this as a sign that I should move forward the purchase of the statues and called my husband to bring the truck to pick up the large decorative pieces.
Go here to see
to see more crib sets that are perfect for nurseries decorated in jungle safari themes.
As I was waiting for my husband to arrive with the truck, I continued shopping and ended up purchasing a table lamp, a floor lamp, a decorative tree, an elephant statue made of metal, decorative animal print throw pillows and blankets, small, wooden African animal figurines, and ordered a shaggy area rug that reminded me of a lion's mane! I had absolutely no luck with finding an owl figurine but I ended up with lots of decor for my baby's room!
I was on a mission to find a simplistic nursery bedding collection that went along with the jungle theme. I searched diligently online until I found the perfect bedding set by Wendy Bellissimo only to find that it had been discontinued! Luckily, I found a seller on Amazon who literally had the last set for sale.
I found banana wicker baskets and storage cubes at Garden Ridge to use as storage for toys, stuffed animals and books.
Ever since I first saw the large, animal statues that day at Pier 1 Imports, I have been on the lookout for other pieces that would make great additions to the nursery's jungle design. My family and friends also made contributions to the space including trinkets and animal shaped books they gave as baby shower gifts which are now displayed on the nursery bookshelf.
The Wall Paint Color
The previous owners of the home had painted the walls of the room that was to become our nursery a nice, neutral color fit with the jungle baby nursery decorating ideas that I had in mind.
Jungle Theme Nursery Furniture
I chose the Antiqued Charcoal Brown Jourdan Nursery Collection from Restoration Hardware that is a beautiful bedroom set. I purchased the convertible crib, a bookshelf and a dresser with removable changing tabletop as well as a desk and nightstand to be used later.
Comfortable Seating
I visited Pier 1 Imports once again to pay a bill and found a banana wicker chair with ottoman and end table. I wanted a rocker for the nursery but fell in love with this chair and knew it would be a perfect addition for the jungle theme. I bought the chair, ottoman, and end table and then had an Amish woodworker add rocker legs to the chair which made it both comfortable and practical to read and rock my little one to sleep.
Nursery Decor
A vendor was selling photographs of elephants, zebras, and giraffes at a local craft show and I bought them and had them framed at a local shop.
I found artificial ferns from JoAnn Fabrics and arranged them in a zebra planter I found at Lowe's. My husband and I also attended an art class together at Paint Monkey where we painted a double feature of an African sunset with silhouettes of giraffes, elephants and a tree. The artwork added a perfect, meaningful touch to the nursery.
Later, I created a zebra stencil on poster board and invited my baby shower guests to sign it.
The Experience
It was never a chore to find and decorate the nursery. It was very exciting to look for and find pieces for the project unexpectedly in stores and craft shows. I found every aspect of decorating to be equally fun.
How Long Did It Take to Decorate Our Baby Boy's Sophisticated Jungle Nursery
The project took over 7 months and I am still finding items even now after he has arrived! I decorated the entire nursery myself with my mom's input; my husband just got the heck out of my way!
My Favorite Part
I love that the results of our efforts are not those of a traditional nursery. All of the decorations pair well with one another and they have come together to create a sophisticated grownup space rather than the typical, kitschy child's room that is common. All of the pieces that were carefully chosen are special and helped create the overall look.
The Most Special Feature
The painting that you see hanging behind the crib that my husband and I created is the most special contribution to the room because we did it together and it is the most personal touch. I also love that the room has the potential to grow with my son, as he gets older. He will have this theme until he is 18 years old based on the cost.
I hope that visitors to
Unique Baby Gear Ideas
will be inspired by my sophisticated jungle baby nursery decorating ideas and find something in this design, the decorations or color scheme to use in their own project.