Where to Get Simmons Crib Replacement Screws and Bolts
Parents often write in asking where to get Simmons crib replacement screws and bolts that got lost in a move or that have simply been misplaced.  

On this page, you will find instructions on how to contact the company's customer service department directly where the metal parts you need might be ordered, as well as queries from other parents looking for bits and pieces the same as yourself as well as resources where you might buy the hardware online or locally from a brick and mortar store.
Parents with questions are also invited to use the form below to post their own want ad for Simmons crib replacement screws, bolts and parts they are lacking.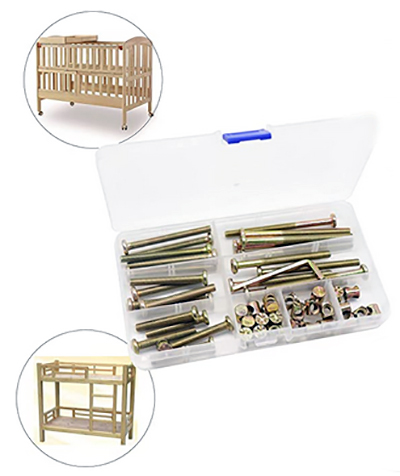 Go here to see complete replacement part kits
available for Simmons cribs and others. The first step in requesting a particular piece is to identify it in the owner's manual that came with your crib. If you do not have a copy of the parts diagram, you can post an ad asking for a copy of the
crib instructions manual
or request one from the company.
Request Replacement Screws for a Simmons Crib
Do you need replacements for screws or bolts necessary for the assembly of your Simmons baby crib?

Did you locate a resource for missing Simmons crib hardware and want to post the information to help other parents?

If so, please post what you are looking for in the form below.
What Other Visitors Have Said
Click below to see contributions from other visitors to this page...

How to Contact Customer Service
Those of you that have a Simmons product that is part of their current line are in luck. Go
here
and fill out their request form.
Easy, right? Simple as can be, right? Well, not so fast. They make you jump through a few hoops before shipping those precious parts to your mailbox. There is a list of documentation you will need before your request will be accepted and processed.
In addition to your name and address you will be asked to supply photos of:
Proof of purchase.
the Delta Children Product Label located on the crib.
the part you need or where it fits on the crib. Please take photos from different angles

Pictures of packaging the crib came in if available (Seriously? Who takes photos of cardboard shipping boxes?)

You will also need to provide the following information:
Product Category (Cribs would be in the nursery furniture category
Reason for needing replacement
Style Number
Version Letter (if applicable to your request)
Lot Code
Part Number (refer to parts diagram in your owner's manual)
Once all of that information is in place, type in your name, address...blah....blah....blah.
Easy! Right?
If you do not have all of the documentation that is required to request the Simmons crib replacement screws, go to the help tab and fill out a form requesting the company contact you.
Oh, for the days when we could just dial a 1-800 number and take care of business but no sense in wishing for the good old days; that crib is not going to assemble itself.