Soft, Real Sheepskin Baby Rugs and Cleaning Tips
Real sheepskin baby rugs are soft, natural and many mothers believe them to be the perfect nursery floor covering. The wool is so soft that unless you have actually felt it for yourself, there is no way that words can come near to describing the experience. Some moms swear by them and claim they have the power to soothe the most colicky of infants.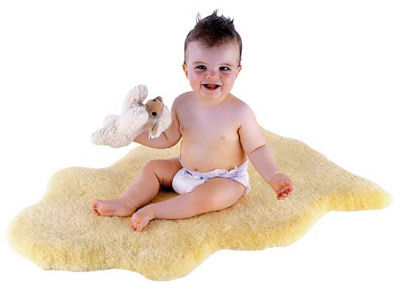 GO HERE TO SEE MORE
The beauty of natural wool is that its natural insulation keeps a child cozy and warm in the winter and absorbs moisture in warm weather to keep baby dry and comfortable. Our little ones sleep better and longer when they are comfortable making sheepskin baby blankets, car seat and stroller liners and boots very popular with busy moms who depend on baby's naptime to get some cleaning or laundry done.
What to Look for in Sheepskin Baby Rugs
Shop for real sheepskin baby rugs and blankets that have a clean, natural smell rather than a chemical odor left over from the tanning process. They should feel soft and cuddly and sized so that they will be easy to wash.
To be safe, purchase a shorn skin for infants to eliminate the danger of smothering.
If you are shopping for a sheepskin baby blanket and plan to also use it as a liner for the baby's stroller or car seat, have a measurement in mind beforehand to be sure of a good fit that won't interfere with the harness connections and compromise the safety of the car seat or stroller.

Sheepskin Baby Rugs to Match Your Nursery Theme
Sheepskin rugs aren't just for adults! These cute area rugs are dyed and stitched into shapes that will complement any baby nursery ideas you may have in mind for either baby boys or girls.

This round sheepskin baby rug is an excellent choice for a baby boy's soccer themed nursery. Most area rugs for a sports nursery theme are nowhere near as fluffy or soft as this!
And if soccer isn't your ball of choice, there are football, baseball and basketball sheepskin rugs for the athletic baby as well as a round throw rug with a big star design for your little allstar!





The sheepskin rugs for baby girls are just as cute as the boy's rugs, just more feminine!



The soccer ball or baseball area rugs could also be used in a girl's softball or soccer themed nursery but there are also cute, rainbow, daisy and butterfly sheepskin baby rugs perfect for a girly room in pastel colors
Sheepskin Rug Cleaning Tips
The key to keeping your baby's rug as soft and pliable as the day you bought it is in how you wash it. I looked online to get advice and everybody seems to have their own ideas on how to wash a sheepskin rug. The problem is that most of the comments that I saw go against the instructions that I got from the sellers of sheepskin products.
When you buy a sheepskin baby blanket or rub, the seller will most likely including washing instructions and a list of recommended detergents that you should use.
Just in case you've lost your instructions, here are some sheepskin rug cleaning tips.
Your sheepskin rug can be either be hand or machine washed using cold water (the water's temperature should not exceed 100 degrees Fahrenheit).
Here's a list of recommended laundry detergents:
Kookaburra Wool Wash
Pure Castile Soap
Biodegradable camp soap
Hair shampoo
DO NOT use Woolite or common laundry detergents such as Tide or fabric softeners.
After washing, hang your rug to air dry out of direct sunlight. To fluff the rug up, it may be brushed when wet using a wire dog brush and again after it's dry.
I have read that sheepskin Rugs can be dry-cleaned but that option would be unacceptable to me.