Rustic Chic Gender Neutral Nursery Decorations
by Melissa
(Bay Ridge, Brooklyn NY NEW York USA)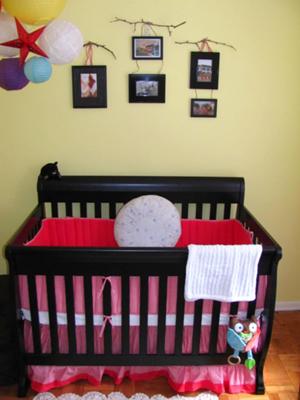 The tree branch picture hangers give my framed black and white photos a chic yet rustic appearance.
I would like to share our DIY craft ideas for rustic gender neutral nursery decorations, as well (as everything else in our baby's room) that were inspired by a set of shabby chic, rose print Rachel Ashwell curtain panels that had been stored in my storage bin since 2002! I bought them waiting for the day that they would be used in my baby's nursery.


I hung onto them because I knew that these drapes would be perfect whether I had a baby girl or boy.



I loved the floral design as well as the colors of the fabric since it has lots of baby blue in the palette.
At long last, the curtains are finally in place covering the nursery windows and the extra curtain panels were used to make matching crib sheets.
Go here to see more
.
To further neutralize the roses, a red gingham check crib skirt and bumper pad by Tadpoles was added. The contrast of the patterns and colors is amazing and sewing my own fitted crib sheet kept the cost of the entire crib set less than $100.
The paper lanterns that I found at the Pearl River Market on Canal Street in New York City were another inexpensive find. I love to shop at this store since their inventory is so vast and affordable allowing me to get so many pieces in various sizes and colors for added effect without stretching the nursery decorating budget too far. You can see from the pictures that the blue and red really pop with the yellow wall color in the background. What a great color scheme for a boy or a girl!
At this point, everything in the room was bright and colorful so I started to experiment with some rustic nursery designs.
The tree branches I collected from my parents back yard in NJ made perfect accents to for the black and white photos I framed and hung on the wall. The red and white gingham fabric brings a touch of color to the earthy display. I feel that gingham is a great gender neutral fabric so I incorporated it several locations throughout the baby's room.
The embroidery hoops that are part of the eclectic wall arrangement were made with wooden hoops filled with vintage fabric remnants that I found at a tiny fabric store here in Bay Ridge, Brooklyn.
Anyone that visits
Unique Baby Gear Ideas
can make these decorations as they were very expensive as well as easy to make!