Romantic Hearts and Roses Baby Nursery
by Yanica
(Guayama, Puerto Rico)
This romantic hearts and roses baby nursery theme room is the picture of femininity with its pastel pink walls and a ruffled crib skirt and canopy.
My husband and I decorated our baby girl's romantic hearts and roses nursery theme to have a classic look with just the right amount of modern style. The moment I found out that we were having a baby girl, I started to imagine decorating the perfect nursery for her that would be feminine and filled with romance.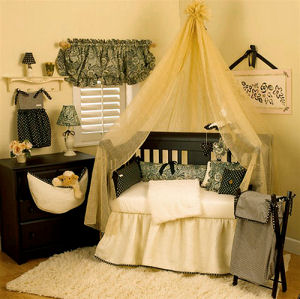 if you want something different for your baby's room like I did that will put the WOW effect on our faces as well as in our hearts every time we walk inside.



I spent countless hours shopping on the internet looking for a nursery bedding set that would serve as the starting point for the room of our dreams.

THE CRIB BEDDING

When I saw this bedding set, Cotton Tale Design French Cuffs bedding, on eBay, I loved it!



First, I loved that it has a very elegant black and cream toile print fabric used in the bedding and secondly, I liked that the colors, black and cream, are not the typical baby girl colors found in most bedding collections. Then there was the added benefit that the whole designer collection was on clearance sale offering a deep discount on the recommended retail price.


Because of the excellent timing, I was able to buy one complete French Cuff bedding set, two window valances, the nursery lamp and shade, the musical baby mobile and a diaper bag cheaper than paying retail price of one bedding set. I knew I wanted to add additional details and nursery decor in contrasting shades of pink that would complement and add my personal touches and a unique look to the whole room.

Initially, I did not buy the mosquito net crib canopy that is a part of the French Cuff collection. Nor did I purchase the accent pillows, because I did not want to spend too much money and was being careful with my nursery decorating budget. But, when I got the bedding set and other accessories that I wanted for our romantic hearts and roses nursery, I knew that I just had to have them.

I shopped around for the mosquito net on the internet and it was sold out almost everywhere! And the few sites where it was available for sale were offering it at a very expensive price. I decided to have one custom made and found a seamstress that sewed a lovely one that fits perfectly in our baby girl's romantic hearts and roses nursery that you see in the picture of the nursery.

HANDMADE DECORATIONS

In keeping with the romantic hearts and roses nursery theme, I attached the little flowers that you see decorating the edge of the mosquito net. It took me about 4 hours to sew more than 100 flowers! I bought the pillow on clearance at JC Penney. The bunny is an extra touch of sweetness that I picked up to use as a crib decoration.

THE WALLS

My husband and I wanted to paint the walls of the room with a two or three color technique. But, when he started painting the details in black, (the third color), it just did not work. At that point we had to rethink the whole wall color design. We decided to shop for wallpaper instead. We found the beautiful ribbon design wall border at Home Depot. I loved it because it complemented the baby pink and cream colors of the romantic hearts and roses nursery walls, the crib set and it also added a touch of romance.


THE FURNITURE

My husband and I love modern furniture. The rest of our house has been decorated with this style. For that reason we made the decision to get this crib and dresser/changer set because it has the modern touch that we were looking for. We ordered Eden Baby Furniture's Moderno Collection from a local baby store. We know this set will last Daniela Victoria for many years as the crib converts to a toddler, day and full size bed. We aren't using the front crib rail now because my baby girl is not born yet I'm enjoying the way the crib looks without it.

THE FLOOR

I found a small black rug at Marshalls that goes very well with the baby's bedding set. My husband does not particularly like big area rugs, so the small oval rug was a compromise. I added a small rose flower arrangement that adds a touch of pink to the black and cream bedding set and is in keeping with our romantic hearts and roses baby nursery design.

WALL DECOR

The wall hearts and shelves are from Marshalls. I was lucky that this store brought a lot of cute accessories for Valentine's Day that I knew would matched perfectly with the rest of the room's decorations. Daniela Victoria's wooden wall initials came from the JC Penny online outlet and the bouquets of roses came from Marshalls.

We want Daniela Victoria to know that she has been loved and wanted from the moment she was conceived so the walls of her romantic hearts and roses baby nursery have been decorated with my maternity pictures. They tell the story of two people that love each other and long to hold their baby girl. There is a mix of black and white and color photos around the nursery. Our favorite one, of course, is the large portrait of my husband holding my pregnant belly that we framed with Daniela Victoria's initials and more nosegays of roses. The simple arrangement of the picture frames around the room is another touch of modern style to balance the otherwise floral and feminine design of the nursery.

DECORATIVE DETAILS

I was aware that fine details would make a big difference in the romantic hearts and roses baby nursery layout. There are two boxes on the side of the crib with the message: With God All Things Are Possible, that provide the spiritual touch that we wanted for Daniela Victoria's room. My lovely aunt gave me a doll that decorates the top of the storage boxes as a special baby gift. This decorative item is a sentimental reminder that we have the love and support of our family.

THE NURSERY WINDOW TREATMENTS

As for the baby's curtains, the French Cuff window valances needed something to personalize them. I bought a soft pink window scarf at a discount store, and had a seamstress make the curtains that are layered underneath the valance. I added black ribbons to use as tiebacks. On the big window there are black window panels because after painting the room, I knew that the we would need touches of black to balance and keep the pink and cream of the romantic hearts and roses baby nursery theme from getting out of hand.


So, now all we are missing the most important element in our nursery filled with hearts and roses; Daniela Victoria! Lord willing, we are expecting to hold her in our arms in the coming weeks! The love and work we poured into this room is just a small representation of the devotion that we want to show our baby girl. We have waiting for her a love that will do anything in order to give her not only a romantic hearts and roses baby room but a whole life filled with hearts and roses!


COMMENTS FROM OUR VISITORS


Apr 13, 2009
Rating *****
Comment Title: Love it!
by: Anonymous

I don't have time to make my own baby bedding, but don't want my baby's nursery to be a carbon copy of a store display. Thanks for sharing your ideas.



Rating *****

Comment Title: Doing It All Yourself

My husband and I completely decorated our third childs nursery recently. My husband made all the furniture and I assisted with the painting and all the fabric work.

It is a special room and we enjoyed the process immensely. It took a lot of time that young parents don't seem to have today. It's so nice to be able to find complete room themes on the internet like this one. Keep up the good work!