Rag Baby Cupcake Quilt Pictures
by Sherry Smith Hartzell
(South Bend, IN)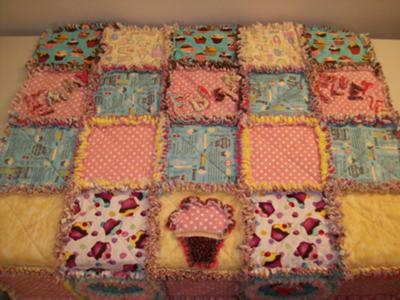 Megan's Delightful Rag Cupcake Quilt
The rag baby quilt in the rag baby cupcake quilt pictures was made for three precious little girls. The cotton & cotton flannel fabric all have "cupcake theme patterns that make a colorful and fitting background for the 3D cupcake appliques.

I didn't use a guide or a pattern to draw the quilt's appliqued cupcakes; I just drew the designs free-hand and cut them out!



GO HERE TO SEE MORE
The measurement of the rag baby quilt is approximately 45" x 58" which is much larger than most of the rag quilts that I've seen for sale.
PLUS, instead of the traditional single layer of flannel between each of the patchwork squares, I prefer to use two. The double layer an already soft and comfy lovie, warmer, more durable and so much prettier. The additional fabric makes the ruffles on the seams fluffier and more colorful.
To personalize the quilt, I applique letters spelling each little girls' name on it making them one-of-a-kind baby shower gifts for a baby girl's
cupcake baby nursery
or precious "keepsakes" that older children as well as adults will appreciate and treasure.
If you will take a peek at my gallery of pictures on my FB page under "Kustom Kumfy Kwilts" or the one in my Etsy store, Kustom Kumfy Kwiltsetsy.com/keli7632, you will see that the
rag baby cupcake quilt pictures
is just one of my many popular designs.
I love that the possiblities are endless when designing a quilt. The way it works is that you, my customer, give me some ideas and I run with them sewing a unique and personlized rag quilt according to your specifications.
I LOVE designing and creating ooak, rag quilts so much!