PInk and Lime Green Nursery
by stephanie
(holiday, FL USA)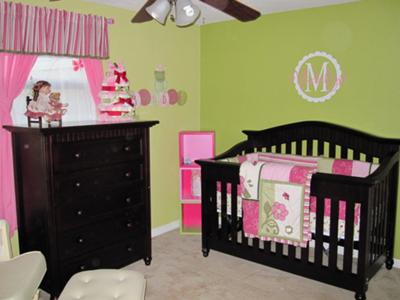 Lime green, hot pink and white baby girl nursery theme. The pink and green nursery is decorated with frogs, butterflies and flowers accented with striped fabrics and a personalized wall decal that features a monogram with our baby girl's initial, the letter
The bright wall paint color and the crib set are the foundation for our baby girl's pink and lime green nursery design. I find the combination to be very pleasing and exhilarating.


The dark finish of the furniture balances the bold color scheme. By this I mean the dark furnishings grounds the space and keeps it from being too bright.



Everything beyond the crib will transition well into her "big girl" room.
The name of the baby bedding bedding collection that we chose for her room is from the Cocalo Angelica collection.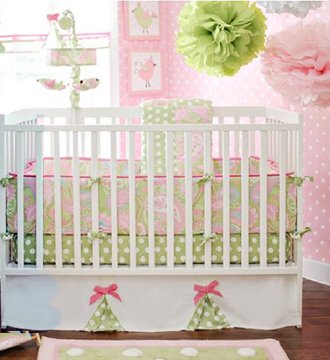 Go here to see more
fabrics and crib sets in lime green, pink and white to consider for your nursery decorating project.
Pink and Green Nursery Curtains
We bought the frog and butterfly print sheers and the pink tie back curtains and we made our own window valance out of the fabric of the baby's crib skirt. The stripe print of the valance fabric blends beautifully with the pink fabric of the solid pink curtain panels.
Painting the Nursery Wall
The brand of the bright lime green paint color that I used was Glidden paint. I bought two shades off of the same paint sample strip in order to paint the walls using a two-toned painting technique.
Nursery Wall Ideas
The wall shelves for our pink and lime green nursery were handmade and look fabulous in contrast with the bright green wall color. In my opinion the finishing touch that completed the look of our baby girl's nursery was the initial "M" wall decal over her bed. I love our baby girl's green and pink baby bedding and the wall color, but when I saw that single letter on the wall over the crib everything came together and it truly became HER room.
From the webmaster:
Thanks for sharing your daughter's room with
Unique Baby Gear Ideas
, Stephanie! I love the colors that you used and wondered if you could please check to see if you might have the name of the Glidden paint that you used?