PINK AND GREEN DAMASK BABY BEDDING
by Liz
Bananafish Lily which is a pink and green damask baby bedding set from Target looks like it is out of stock so this is the crib set I'm going to use as a substitute. It's cheap, I love the minky dot fabric and I need the nursery to be ready by February.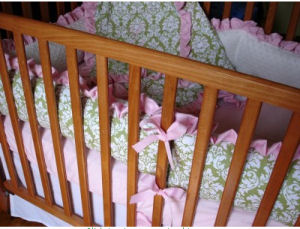 GO HERE TO SEE MORE!
Now I have to make other decisions before I start decorating the baby's nursery. Would dark furniture look better or should I go with a white crib and dresser?
What color wall paint would look best with this bedding set? Our walls are currently white and I think the room would look washed out without a little color. Can anybody help?
From the Webmaster:
The
pink and green damask baby bedding
set that you found is an excellent substitute for the Bananafish Lily crib set. The shade of green in the fabric is very similar but the pink fabric in your set is closer to a pastel powder pink than the raspberry pink in Lily. I would suggest that since you are buying a custom made set that you can get whatever color pink (or green) that you might want or you can have the seamstress copy the Bananafish Lily set more accurately and you might consider having her send you some fabric samples before committing to a purchase. You would not want to take a chance on getting a
lime green baby bedding
set when you had your heart set on a soft, leaf green.
I think that you are smart to get started because I have heard from more than one mom that they are waiting on this back ordered baby bedding set.
As for paint color recommendations I would wait until I got the fabric swatches in hand before I made a definite decision.
When you have finished decorating, I hope that you will return to
Baby Nursery Themes and Decorating Ideas
to share your pictures and tell us how your
custom baby bedding
set turned out.